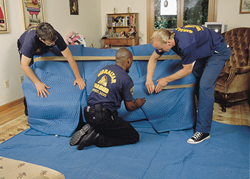 "These situations create the potential for abuse," says Acting Attorney General John Hoffman.
Saddle Brook, NJ (PRWEB) January 30, 2014
This past November, Acting Attorney General John J Hoffman along with the Division of Consumer Affairs set up an undercover sting operation to catch moving companies that were performing intrastate moves without a license. The Daily Record reports that Operation Mother's Attic occurred from the 19th to 22nd of November, which resulted in 26 different moving companies being fined $2500 for their illegal operations. This was also expanded upon on Patch.com.
New Jersey's licensing laws exist in order to protect consumers and their possessions throughout the course of a move. It is a competitive business where people and their things are put at risk.
"These situations create the potential for abuse," says Hoffman. "We are enforcing New Jersey's licensing laws in order to protect consumers and, just as importantly, to ensure a level playing field for New Jersey's many honest and licensed moving companies."
Police scheduled moves with the unlicensed companies. They booked moving locations along with destinations at a Ledgewood storage facility. The movers were met by Consumer Affairs agents as well as US Immigration and Customs Enforcement. Along with the aforementioned fines, two companies received an additional $2500 and two employees were arrested by immigration and customs for outstanding warrants.
In 2013 alone, the Division of Consumer Affairs received 89 formal complaints about moving companies. New Jersey has 290 licensed moving companies. Gibraltar Van Lines, has over four decades of licensed experience in moving.
Gibraltar has highly skilled and courteous workers that can do all of the hard work of packing and carrying boxes. They offer a wide variety of services and will move both residential and commercial properties anywhere within the continental United States. They even offer direct lines to popular moving destinations, such as Florida and Texas. They do all they can to make their customers' moves as simple as possible and will provide many free services to reduce costs, such as four months of free storage, free boxes, paper and tape and free delivery of boxes in advance of your move date.
If you would like more information on Gibraltar Van Lines and many of the services that their moving company in NJ provides, call 1-800-262-3499.