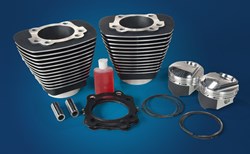 Hold on to your handlebars!
Plymouth, WI (PRWEB) January 23, 2014
Leave it to gearheads to find a way to maximize the horsepower output on an already powerful engine. Revolution Performance out of Plymouth, Wisconsin has taken the science of Nickel Silicon Carbide (NSC) cylinder plating and applied it to the Harley Davidson V-Twin engine to achieve amazing performance and longevity results.
Under the umbrella of Millennium Technologies LLC's family of companies, Revolution Performance has taken the idea of superbike cylinder physics and perfected it to fit the larger V-Twin engine's capabilities. The results have left customers impressed, and competition in the dust. Revolution Performance Bolt-On Big Bore Kits add large percentage increases to horsepower output as well as higher torque. For the biggest results, customers can opt for Monster Big Bore Kits that range in sizes from 117 to 131 inches of displacement. Hold on to your handlebars!
The additions don't stop at displacement kits. Revolution Performance not only sells the kits, but they service the engine. Revolution is one of the few shops in the country that offers services to repair Harley Davidson crankshafts; repair services that can save the customer hundreds of dollars. These services alongside a 5-axis CNC machine used for porting and polishing Harley cylinder heads gives Revolution Performance the upper hand in being the most reputable HD aftermarket performance shop around.