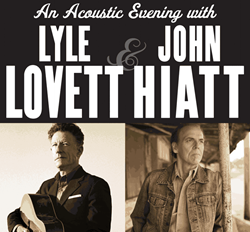 Fairfield, CT (PRWEB) January 21, 2014
The Fairfield Theatre Company welcomes two of America's most celebrated singer-songwriters, Lyle Lovett and John Hiatt, together for a special evening at the Klein Auditorium at 8 p.m. Thursday, Jan. 30.
With an evening that features fan favorites, these two prolific songwriters will create an unforgettable night by giving those in attendance a rare glimpse into their creative minds through music, conversation and hilarious stories.
Lyle Lovett, the Grammy Award-winning singer, composer and actor, has recorded 14 albums and released 22 singles that transcend the boundaries between country, swing, jazz, folk, gospel and blues into a category uniquely his own. John Hiatt is a talented singer-songwriter/guitarist and has 24 albums to his own credit. Hiatt has been successfully covered by countless musicians like Bob Dylan, Bonnie Raitt, Iggy Pop and Keith Urban with his blend of fusion rock, folk, new wave and Mississippi Delta blues.
Touring together again for the first time since their 2007 Songwriters Tour, these two prolific songwriters will create an intimate evening experience not only through the songs they sing and perform, but in the insightful tales and stories that will have audience on the edge of their seats.
Come join FTC as they present this truly remarkable evening of songs and stories by Grammy Award-winner Lovett and Grammy-nominated performer Hiatt. This is an evening not to miss.
About the company:
Fairfield Theatre Company is a highly-acclaimed non-profit performing arts organization located in the heart of downtown Fairfield, Connecticut. FTC presents nearly 250 performances and concerts each year featuring outstanding national talent on FTC's StageOne in Fairfield, The Klein Auditorium in Bridgeport, and the Norwalk Concert Hall in Norwalk. FTC's intimate 200-seat StageOne concert venue is widely recognized as being one of the best places to see a live performance in the region. FTC is dedicated to providing the highest quality arts, live entertainment and educational experiences to the communities it serves.