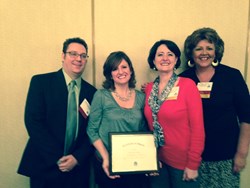 Mrs. Nix lives and breathes the Berrien School-Based Telecare Center.
Waycross, Georgia (PRWEB) January 23, 2014
Loren Nix was awarded Georgia Rural Health Association 2013 Award of Excellence-Outstanding Rural Health Program at the Georgia Rural Health Association Annual Conference on January 12, 2014.
Mrs. Nix is passionate about the Berrien County School-Based TeleCare Clinic.
She began helping with the development of this program from the very beginning in 2008. She continues to serve on the advisory board and treats students/patients in the health center. She is the driving factor behind these centers. She understands first hand how important it is to care for the health of the students. Many times she has encountered situations where a child desperately needed medical treatment and the parents were simply unable to complete that task. She has worked tirelessly to make sure everyone in the Berrien community knows about the centers and knows how to access them. At any given time during the school day, it is easy to find multitudes of students in her office. She is their healthcare provider, confidant, and friend.
The Berrien County School-Based TeleCare Clinic has set the model for the State of Georgia when it comes to providing high quality healthcare to students on a school campus. Starting in 2008 with a planning phase, this county set goals and objectives for itself. The primary goal was to provide quality healthcare to the students of Berrien County who may otherwise have no access. In 2010 the Berrien County School-Based TeleCare Clinic opened its doors to the students enrolled in the Berrien County Elementary School. As of today, through grant funding and local support, Berrien County currently has TeleCare Clinics in 3 schools with plans to open the 4th clinic by the start of next school term. In addition to allowing students to be seen, faculty and staff can also receive care on campus.
The school nurses have predominately staffed the SBTCs in Berrien. Without the support of these nurses, this initiative would not have been possible. The nurses are the true unsung heroes of these clinics. Others involved have been the school social worker, guidance counselors, Board of Education, Berrien County Hospital, Dr. Brian Griner, Dr. Richard Wheeler, Dogwood Pharmacy and Hometown Pharmacy. Additionally a special partnership with Georgia Partnership for TeleHealth was established and they provided an equipment donation and access to the GPT network. Each of these organizations and people has played integral roles in making these clinics successful.
About GPT:
Georgia Partnership for TeleHealth, Inc. is a charitable nonprofit corporation which was formed to promote improvements in healthcare and healthcare facilities in rural and under served communities throughout the world by assisting in the establishment of telemedicine programs. GPT is known as the leading agency in Georgia focusing on increasing access to healthcare through innovative use of technology including telemedicine, health information exchange and telehealth. GPT is under the umbrella company of Global Partnership for TeleHealth. Global Partnership for TeleHealth's mission is to deliver worldwide access to healthcare. Our unparalleled success in the United States in applying Telehealth programs and services has assisted agencies in providing cost effective, efficient, and high quality healthcare. GPT is reaching beyond our borders to bring healthcare to the world.
About GRHA:
Georgia Rural Health Association (GRHA) is the oldest state rural health association in the country. Founded in 1981, this nonprofit network of healthcare providers, educators, and individuals is united in its commitment to improve the health and healthcare services of rural Georgians. GRHA understands that the rural areas in our state are unique and differ greatly from urban areas in our state. These rural communities, and those who provide healthcare services to them, require educational programs and support tailored to their specific needs.