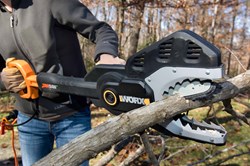 The JawSaw is designed to safely cut branches up to 4 inch diameter directly on the ground, above ground and overhead.
Charlotte, N.C. (PRWEB) January 22, 2014
Dealing with fallen branches, hanging deadwood, damaged bushes and other yard debris has been no fun this winter for homeowners in many parts of the country. Besides frigid temperatures, wind chill and slippery surfaces, there's a lot of lifting, bending and reaching involved, especially when branches are frozen to the ground or dangling overhead. It's definitely not an ideal environment for the average homeowner to wield a conventional, gas-powered chain saw.
WORX has engineered the electric JawSaw to improve chain saw safety, as well as efficiency and ease of use. JawSaw is designed to safely cut branches up to 4 inch diameter directly on the ground, above ground and overhead.
Other chain saws require lifting of heavy limbs off the ground to cut, which can lead to backache and muscle strain. Hitting the ground with a conventional chain saw may damage the exposed chain and bar, as well as increase the risk of kickback. In contrast, the jaw of the JawSaw encloses the chain, so that it never touches the ground. Its jaws also guard the operator from potential contact. The JawSaw's steel teeth hold the wood in place while cutting at the proper angle.
To reach tree limbs up to 12 feet from the ground, the JawSaw's 5-foot extension pole can be used. The extension pole requires no tools to attach or detach, which makes working in the cold more tolerable.
JawSaw also features Auto-Tension, an easy-to-use chain tensioning and replacement system. Simply turn one bolt, and the patented system sets the proper chain tension and prevents over-tightening.
Chain saw lubrication is essential. JawSaw's automatic oiler system has a reservoir with an oil level indicator that helps the operator know when it's time to refill. During operation, the automatic oiler provides constant lubrication to both the bar and chain. Besides being a time-and-effort-saving workhorse on the winter landscape, the eco-friendly, electric JawSaw is emission-free and has minimal operating costs, compared to gas-powered models. The JawSaw is covered by a limited three-year warranty.
JawSaw (WG307, $99.99) and JawSaw 5-ft. Extension Pole (WA0163, $39.99) are available at http://www.worx.com and other online retailers, in addition to Lowes and Menards.
To reach out to WORX social media links visit: Facebook: https://www.facebook.com/worxus?ref=hl;Twitter:https://twitter.com/WORXTools;
Pinterest: http://pinterest.com/worxtools and Instagram: @WORXTools