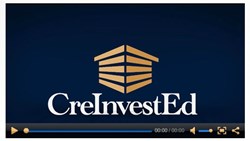 Wakefield, MA (PRWEB) January 23, 2014
CreInvestEd announced today that a new commercial real estate investing 101 podcast was released. The interview is featured on Kevin Bupp's "Real Estate Investing for Cash Flow" radio show on iTunes.
In the interview, CreInvestEd founder Jeremy Cyrier, CCIM and Kevin Bupp discuss how to get started in commercial real estate investing, how to leverage yourself into bigger properties, one of the biggest lessons learned in commercial real estate investing, how to get access to the right deals, and attracting money partners.
About CreInvestEd
CreInvestEd, a commercial real estate investing education company, was founded in 2011 by Jeremy Cyrier, CCIM. CreInvestEd teaches investors how to find the best deals on the best terms so that investors can attract money partners, make better commercial real estate investments, and grow passive income and net worth.