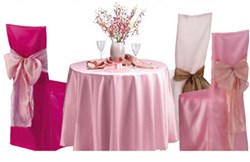 (PRWEB) January 27, 2014
Table Cloth Factory is announcing their line of tablecloths, chair covers, chair sashes, overlays and napkins that are designed professionally for a stunning look. Party planning professionals were in need of an affordable resource that offered a large selection of colors, fabrics and styles at prices that allowed them to bring their visions to life without going over budget. Seeing this demand in the industry, Table Cloth Factory worked to expand its inventory and offer higher quality products in more style options.
Linen tablecloths have always been a popular selection at Table Cloth Factory, but now materials are available that include satin, flocking, spandex, crinkle and pintuck. Table Cloth Factory understands the entertaining industry and aims to offer products that are not only professional quality, but that also stay on top of the trends that are being demanded by clients.
Table cloths can also be designed on a custom level with specific measurements or material requests. This is another dilemma that many event planners face, and one oddly shaped surface can often ruin an entire décor plan. Table Cloth Factory understands these needs and can work with designers to create custom tablecloths for tables, buffets, serving stations and even convention tables.
Accessories offered through their website allow consumers to complete their décor without having to turn to several different vendors. When doing this, colors that may have looked similar online can end up a shade or two off and completely clash. Table Cloth Factory makes it simple to coordinate a tablecloth with napkins or chair covers with an overlay. Because of their experience in the industry, they know how important these seemingly minor details can be.
A linen tablecloth or chair covers can also be utilized by those who aren't in the professional dining industry. Table Cloth Factory has become a very popular resource for homeowners who are looking to add professional-grade décor to their dining room or other entertaining space. While Table Cloth Factory does offer wholesale pricing for those who do need items on a professional level, they're also capable of handling smaller orders for residential consumers. Their extensive selection of colors and styles makes it incredibly easy to match any existing décor or paint color.
Table Cloth Factory is a trusted and experienced resource in the professional dining décor industry and they're proud to offer more designs, colors and styles than ever. By remaining true to their affordable pricing and continuing to serve customers in both the professional and residential fields, they are now one of the most popular resources for high quality table accessories on the web.
Customers can order quickly and easily through their website, and representatives are available to handle custom orders or answer any questions. If an option or color is not available online, it is encouraged that consumers call directly since they carry an extensive inventory in their warehouse.