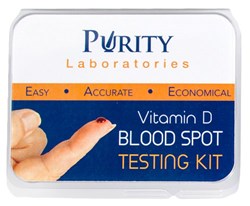 In the last few decades, scientists have discovered that vitamin D is a hormone that has super powers regarding immunity.
Portland, OR (PRWEB) January 22, 2014
The body works like a machine; each individual cog moves in sync with the others to keep us alive and healthy. But just like a machine, the body's cogs need essential maintenance to continue running. Researchers have discovered that vitamin D works in the body's organs, similarly to how oil works on the cogs of an assembly line and keeps the organs functioning at their highest level.
In the last few decades, scientists have discovered that vitamin D is a hormone that has super powers regarding immunity. As a result, researchers in almost every health discipline are studying the application of vitamin D to treat or mitigate many chronic illnesses.
This year, Purity Laboratories, Inc., (Purity) will be launching an innovative, new kit - the Vitamin D Blood Spot Testing Kit – that will make it easier and more efficient to ascertain a person's vitamin D status. The test can be done from home and contains all of the tools necessary to perform the test.
It includes instructions on how to take the test, two lancets, a spot saver card, an alcohol prep pad, a surgical sponge and a latex-free bandage. A requisition form and prepaid return envelope are also included in the kit. When the test is complete, it is placed into the prepaid envelope along with the test requisition form and mailed back to Purity. Results are then sent directly to whoever ordered the test within 5 to 10 business days.
This is a convenient option for patients who are unable to receive testing in the doctor's office, including children, the elderly and those who are homebound.
The term "vitamin D" is generally used to describe parenteral vitamin D produced by the action of sunlight on the skin or vitamin D obtained from the diet as either vitamin D-3 or plant-derived vitamin D-2.
A complex conversion starts when vitamin D travels through the bloodstream to the liver, where the vitamin receives an extra oxygen and hydrogen molecule to create 25(OH)D, the main circulating form of vitamin D in the body and determinant of a person's vitamin D status. 25(OH)D is then converted to active vitamin D, known as calcitriol or 1,25(OH)2D, when it travels to the kidneys and receives a final pair of oxygen and hydrogen molecules.
Research has shown the benefits that increased levels of vitamin D have on many disease categories, including Alzheimer's disease, multiple sclerosis, certain types of cancers, cardiovascular disease and many others.
Understanding how vitamin D works has prompted healthcare professionals to look more closely at a person's vitamin D levels and many have started screening those who may have an increased risk for deficiency. Purity's testing kit is easy, accurate and economical and provides doctors with an inexpensive and less invasive way to screen at risk groups; including the elderly, the obese, those with darker skin tones and people who live in cloudy or otherwise dark climates.
More information, including pricing and how to purchase a kit, will be available soon.
Contact:
Kulani Mahikoa
V.P. Marketing
Purity Laboratories, Inc.
Telephone: 503-694-1600