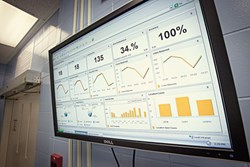 Our solution is seamlessly integrated with Infor's Cloverleaf to leverage its proven track record of connecting applications that generate savings for our healthcare customers"- Dan SandsSolstice President & CEO
Columbia City, IN (PRWEB) January 22, 2014
Solstice Medical, LLC (Solstice), a leading provider of advanced surgical supply chain (SSC) software solutions for the healthcare industry, announced today a new partnership with Infor, a leading provider of business application software serving more than 70,000 customers. Through this collaboration, Solstice's healthcare information technology (HIT) platform, DOCK-to-DOC® plans to utilize Infor Cloverleaf to more easily integrate with clinical, financial and supply chain systems such as Infor Lawson Enterprise Financial Management and Infor Lawson Supply Chain Management for Healthcare.
With this simplified and standardized approach, customers will be able to more quickly deploy and integrate Solstice's DOCK-to-DOC® platform to further optimize supply chain operations. The DOCK-to-DOC® real-time inventory management solution improves patient outcomes, decreases OR time and dramatically improves provider and patient satisfaction scores through its innovative surgical workflow and proactive business intelligence applications. By connecting the platform with other applications, including Infor applications for healthcare, users can experience greater visibility across the complete supply chain for better, faster decision making.
"Our surgical supply chain platform leverages embedded business intelligence to provide real-time visibility and reduce high cost surgical inventory," said Dan Sands president and chief executive officer, Solstice Medical. "Our solution is integrated with Infor's Cloverleaf to leverage its proven track record of connecting applications that generate savings for our healthcare customers," continued Sands.
The Infor Cloverleaf Suite allows healthcare organizations to securely exchange data and better fulfill meaningful use requirements. Connecting doctors and information across multiple disparate entities and systems, Infor Cloverleaf creates a unified care continuum to help improve care quality and outcomes.
"Infor understands that the most important aspect of business applications for healthcare is that they help organizations focus on providing exceptional patient care," said Paul Dewey, vice president, Global Healthcare Integration, Infor. "Partnering with technology leaders like Solstice Medical to simplify integrations provides healthcare organizations with more options to help reduce costs and inefficiencies, allowing them to focus on people, rather than processes."
For more information on Infor, please visit http://www.infor.com/healthcare.
About Infor
Infor is fundamentally changing the way information is published and consumed in the enterprise, helping 70,000 customers in more than 200 countries and territories improve operations, drive growth, and quickly adapt to changes in business demands. Infor offers deep industry-specific applications and suites, engineered for speed, and with an innovative user experience design that is simple, transparent, and elegant. Infor provides flexible deployment options that give customers a choice to run their businesses in the cloud, on-premises, or both. To learn more about Infor, please visit http://www.infor.com.
About Solstice Medical LLC
Solstice Medical is committed to transforming the healthcare supply chain by providing customers with a unified surgical supply chain platform. Through real-time business intelligence and embedded workflows, Solstice helps to reduce costs, optimize resource use and increase procedure revenue.
In 2008, Solstice Medical was named "Innovator of the Year" by the Greater Fort Wayne Business Weekly, and in 2010, the Indiana Economic Development Corporation named Solstice Medical one of Indiana's "Companies to Watch." For more information visit the company's website at http://www.solsticemedical.com
Media Contacts
Dan Sands (Solstice Medical) – 260-399-1651 or info(at)solsticemedical(dot)com
Dan Barnhardt (Infor) - 646-336-1731 or dan(dot)barnhardt(at)infor(dot)com