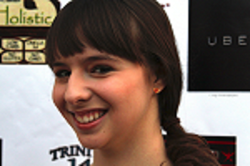 At the exclusive red carpet event the prominent kids jewelry company gifted several of their beautiful pieces to a number of celebrities.
New York (PRWEB) January 22, 2014
Chanteur Designs was featured as a sponsor of this year's annual Golden Globe's Style Suite. At the exclusive red carpet event, the prominent kids jewelry company gifted several of their beautiful pieces to a number of celebrities, including Disney Channel star Chelsea Cook.
Cook was seen sporting the kids earrings on the red carpet at the private celebrity event, which was held at the iconic Bushby's on Hollywood's Wilshire Boulevard. Cook is a guest-star on Comedy Central's Emmy-nominated "Key and Peele" as well as a series regular on the popular Disney Channel series "Lego Friends." She will also have a reoccurring role on upcoming Lifetime series Cayman Heat, set to debut sometime this year.
Chanteur Designs offers a range of kids jewelry and kids earrings in a variety of styles and shapes, including butterflies, hearts, stars, and flowers. The company boasts four unique collections in total: the Swarovski Elements Collection, the Swarovski Enamel Collection, the CZ Collection and the CZ Enamel Collection. Most pieces are available in a variety of different plating options, including yellow gold, white gold, and sterling silver. Every piece is designed with both functionality and safety in mind and each piece is carefully tested by Toytestinglab, a laboratory accredited by the Consumer Product Safety Commission.
Visit http://www.chanteurdesigns.com to learn more about Chanteur Designs and all of the beautiful kids jewelry options that they offer.
About Chanteur Designs
Founded in 2012 by Alexander Singer, Chanteur Designs has grown exceptionally in the last year. Singer was inspired to create a high-quality line of children's jewelry after shopping for his own daughter. He felt continuously frustrated with the limited options and poor quality of children's jewelry on the market. Convinced that his daughter deserved the best, he set out to design well crafted, high-quality, and age-appropriate children's jewelry, including kids earrings and kid's bracelets. With world-renowned crystal vendor Swarovski Element's as a branding partner, Chanteur Designs now offers premium children's jewelry across the globe.