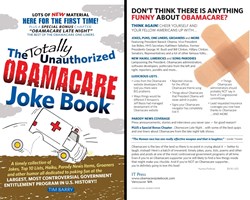 An edgy and irreverent collection of over 225 humorous items about Obamacare including one liners, narrative jokes, mock news releases, top 10 lists, parody songs and more.
Vancouver, Washington (PRWEB) January 22, 2014
IT Press, today announced the launch of "The Totally Unauthorized Obamacare Joke Book(tm)" - the first book-length collection of humorous and satirical material about Obamacare, President Obama, and others caught up in what may be one of the biggest public policy disasters in American history. The book's website (http://www.obamacarejokebook.com) provides sample jokes, background information on the book and complete ordering information.
AS IF OBAMACARE DOESN'T HAVE ENOUGH PROBLEMS ALREADY
"Obamacare is the law of the land for now so there's no point in crying about it," states humorist Tim Barry, author/editor of the book. "Better to laugh instead! Seriously, we hope everyone, maybe even some members of the Obama administration (although that's probably a stretch), will smile and enjoy this eclectic collection of topical humorous material."
According to Barry, a technologist, former Infoworld columnist, and author of three other joke books, "Obamacare continues to generate headlines every single day — making this book a very timely source of humor, satire and entertainment."
"Besides," continues Barry. "I'd had private insurance coverage for over 10 years and was very happy with it. When it was cancelled in mid-October, 2013 because of Obamacare mandated coverage changes I started working on this book to make some extra money to pay for my new, more expensive replacement coverage."
WIDE VARIETY OF HUMOROUS MATERIAL
Edgy and irreverent, The Totally Unauthorized Obamacare Joke Book contains over 225 items including narrative jokes, Top 10 Lists, poems, haiku, puns, mock news releases, song parodies and other humorous items including:

Things about Obamacare President Obama will NEVER admit in public
Things Obamacare managers should probably NOT say to Congressional committees
"Ms. Sebelius" song parody of, "Mrs. Robinson" by Paul Simon
Signs your Obamacare navigator has completely lost it
Top secret Obamacare public statement decoder
Least popular coverages now mandated by Obamacare
Also included is a bonus chapter, "Obamacare Late Night," featuring some of the best Obamacare quips and one-liners from the masters of the late night talk shows.
"We've got a wide variety of humorous material collected here," adds Barry. "Nobody is going to like them all but everybody should be able to find some items that will at least make them smile a bit."
CELEBRITIES LIVEN MATERIAL
In addition to President Obama and members of his administration, "guest appearances" by the rich and famous - including: Former Presidents George W. Bush and Bill Clinton, Pope Francis, Jeff Bezos, John Boehner, Rush Limbaugh, Bill O'Reilly and more - plus references to other recent events add a timely feel of the material.
AVAILABLE OVER THE INTERNET
The "Totally Unauthorized Obamacare Joke Book(tm)" is priced at $9.95/copy (plus $3.00 S&H). For more information on the book see the book's website, http://www.obamacarejokebook.com. The book is available directly on the website and also from Amazon.