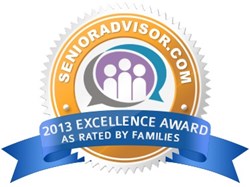 Lake Oswego, OR (PRWEB) January 22, 2014
Holiday Retirement, a leading provider of retirement communities and other senior living options, recently had 43 of its communities presented with Excellence Awards from SeniorAdvisor.com for receiving consistently high ratings from residents and their families in 2013.
"It's exciting to see so many of our communities recognized for the excellent service and care they provide," said Jamison Gosselin, vice president of marketing, communications and resident enrichment for Holiday Retirement. "The staffs at all our communities work tirelessly to ensure our residents receive an exceptional retirement experience. This recognition by seniors who have used one of America's largest senior living referrals services is humbling."
SeniorAdvisor.com is a consumer reviews web site established by A Place for Mom (APFM), the nation's largest senior living referral service, as a way for seniors and their families to share feedback on senior living communities and services. The inaugural SeniorAdvisor Excellence Award identifies the top senior living communities who have received an overall average rating of at least 4.5 stars on the site. The award winners were recognized for having the best customer ratings and reviews out of more than 100,000 senior care providers currently on SeniorAdvisor.com.
"SeniorAdvisor.com was launched with the goal of providing a useful resource for consumers looking for first-hand feedback on senior care communities," said Eric Seifert, president of SeniorAdvisor.com. "We wanted to put a spotlight on those companies who have invested efforts to deliver excellent customer service to potential and existing customers, as evident from their high ratings. The recipients of the first SeniorAdvisor.com Excellence Awards set a high bar of quality for other senior care providers to follow."
The following Holiday Retirement communities received Excellence Awards from SeniorAdvisor.com:
Alexis Gardens - Toledo, Ohio
Ashley Park - Charleston, S.C.
Aurora Pond - Wyoming, Mich.
Butterfield Place - Fort Smith, Ariz.
Colonial Harbor - Yorktown, Va.
Columbus Estates - Bakersfield, Calif.
Eastdale Estates - Montgomery, Ala.
Echo Ridge - Knoxville, Tenn.
Edgewood Downs - Beaverton, Ore.
Essington Place - Joliet, Ill.
Fig Garden - Fresno, Calif.
Fleming Point - Greece, N.Y.
Genesee Gardens - Flint Township, Mich.
Golden Oaks - Yucaipa, Calif.
Harbor Place - Corpus Christi, Texas
Hilltop Estates - Redding, Calif.
Holiday at the Atrium - Glenville, N.Y.
Isles of Vero Beach - Vero Beach, Fla.
Las Palmas - Palm Coast, Fla.
Laurel Grove - Lawrenceville, Ga.
Lighthouse Pointe - Chesapeake, Va.
Lincoln Square - Grand Rapids, Mich.
Maplewood Estates - Fairport, N.Y.
Montgomery Park - East Amherst, N.Y.
Redwood Retirement Residence - Napa, Calif.
Renaissance-Sherman - Sherman, Texas
Riverplace - Columbus, Ga.
Standiford Place - Modesto, Calif.
Tamarack - Palatine, Ill.
The Gables at Guilford - Guilford, Conn.
The Manor at Oakridge - Harrisburg, Pa.
The Palms - La Mirada, Calif.
The Woods at Canco - Portland, Maine
The Woods at Holly Tree - Wilmington, N.C.
Venetian Gardens - Venice, Fla.
Walden Place - Iowa City, Iowa
Walnut Woods - Boyertown, Pa.
Washington Commons - Evans, Ga.
Westminster - Greenville, S.C.
White Oaks - Manchester, Conn.
Whiterock Court - Dallas, Texas
Windlands East - Madison, Tenn.
Yosemite Gardens - Clovis, Calif.
Additional details and a complete list of award winners can be found on https://www.senioradvisor.com/content/top-rated-senior-living-communities.
About Holiday Retirement
Based in Lake Oswego, Ore., Holiday Retirement invented the concept of independent senior living in 1971 and is the largest provider in North America today with more than 300 retirement communities throughout the United States and Canada. Holiday Retirement is in the business of providing security, comfort, and value to independent seniors seeking a fulfilling lifestyle in a welcoming environment. For more information about Holiday Retirement, please visit http://www.holidaytouch.com.
About SeniorAdvisor.com
SeniorAdvisor.com is the premier consumer ratings and reviews site for senior living communities nationwide. The innovative website provides easy access to the information families need when making a senior living decision, and features trusted reviews and advice from local residents and their loved ones. SeniorAdvisor is an independent operating unit of A Place for Mom, Inc. For more information, please visit http://www.SeniorAdvisor.com.