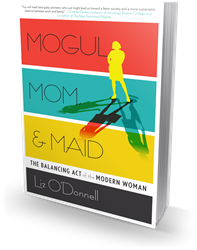 The book reveals the challenges that working mothers face, from the kitchen table to the conference table.
Boston, MA (PRWEB) January 22, 2014
Gibson's Bookstore will host Mogul, Mom, & Maid author Liz O'Donnell for an event and book signing on Thursday, February 6th at 7pm. Her book Mogul, Mom, & Maid: The Balancing Act of the Modern Woman hit shelves last October and has been gaining momentum ever since. Called "unflinchingly honest" the book reveals the challenges that working mothers face, from the kitchen table to the conference table. Liz's research and the stories she shares will help real women:
-Find and maintain a work-life balance
-Seek new professional initiatives
-Reach their true potential as breadwinners
-Make time for the things that truly matter
-Learn to ask for help!
Mogul, Mom, & Maid was named one of Publishers Weekly's Top 10 Business & Economic Books. Liz puts her prose to practice through her blog, Hello Ladies, delivering news and information to smart, busy women. The site was named one Forbes' Top 100 Websites for Women.
About the book
The state of working women has been declared and debated since the days of Rosie the Riveter. The headlines, and the statistics behind them, however, don't tell the whole story. The truth is, many women today are breadwinners; and these breadwinners are struggling. They are caught in a perfect storm of male-dominated culture at work, traditional social norms at home, and outdated schedules in the school.
Mogul, Mom, & Maid takes an honest look at how women are balancing home life and career. The pressures of child rearing, coupled with an unfulfilling corporate culture, are too great to be ignored.
Author Liz O'Donnell goes beyond statistics and tells the stories of women all across America who are juggling careers, motherhood, marriage, and households. Mogul, Mom, & Maid looks at the choices women are making, the options they have, and the impact these decisions have on themselves, their families, and the businesses that employ them.
Praise for Mogul, Mom, & Maid
"This is the perfect moment for this important book which advances the conversation about how to provide and care for yourself and your family, while living a happy and meaningful life. Could there be a more important topic? Liz O'Donnell does a wonderful job combining the stories of real women, with helpful research, and specific action steps. Well done." –Jacki Zehner, CEO Women Moving Millions and former partner and managing director, Goldman Sachs
"In Mogul, Mom, & Maid, women breadwinners share their honest views on the challenges they face in reaching their true potential. While many of those challenges manifest at the conference table, they also manifest at the kitchen table. In giving voice to these women and the issues they face managing both work and home, O'Donnell helps crack the code on what's holding women back and outlines practical steps to help women, their partners, and their employers redefine women's relationships with and access to power." –Gloria Feldt, co-founder of Take The Lead and author of No Excuses: 9 Ways Women Can Change How We Think About Power
"If you think you've read it all about having it all, you haven't read Mogul, Mom, & Maid. Even as moguls debate about 'bringing home bacon and frying it up in the pan,' through a deft mix of research, interviews, and her Hello Ladies' unique voice, Liz O'Donnell provides a refreshingly candid look at the actual bacon-making of a working mom (and maid's) life." –Whitney Johnson, cofounder Rose Park Advisors and author of Dare, Dream, Do: Remarkable Things Happen When You Dare to Dream
"Mogul, Mom, & Maid should have been written twenty-five years ago! We would have saved ourselves a collective wandering in the desert. A must-read for anyone looking for a more balanced life, no matter your sex!" –Larry Weber Chairman & CEO W2 Group, Inc.
Can't make the event? Call Gibson's bookstore (603-224-0562) or email gibsons(at)totalnetnh(dot)net to have a copy put aside to be signed.