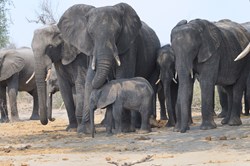 The nearby Okavango Delta has been named one of the Seven Natural Wonders of Africa.
Glendale, CA (PRWEB) January 23, 2014
An African safari appears on many a traveller's wish list. Realizing that dream usually requires expert knowledge, genuine curiosity, a little courage and no small amount of money.
Botswana has long stood a world apart from its neighbours as a stable, thriving democracy with a comparatively high standard of living. Its safari opportunities are also second to none. Chobe National Park is home to Africa's largest elephant population, including Kalahari elephants, the largest of these majestic animals. Lions, leopards and African buffalo, along with over 450 species of birds also frequent the plains.
The nearby Okavango Delta has been named one of the Seven Natural Wonders of Africa. It too is teeming with wildlife, including nocturnal creatures such as honey badgers and African wildcat. Few travel adventures can be compared to navigating the Delta in a small canoe, just meters from hippos, crocodiles, or a herd of drinking elephants.
The Kalahari Desert is a world removed again. Not in fact a desert, but a grassy plain rich with wildlife, it is home to springboks, wildebeest, cheetahs, leopards, jackals and black-maned lions unique to the region. Visitors can even take a walk with the famous 'bushmen' to learn about life in this harsh environment.
All this wonder however, comes at a cost. The country's stability, along with tight regulations on its parks and reserves make a good Botswana safari one of the most expensive travel options in the region. Recognizing this, Goway has secured new low rates with guest lodges throughout Botswana and four of its neighbours – Zambia, Zimbabwe, Namibia and South Africa. Travellers who book stays at multiple properties can enjoy even greater savings as they explore the many sides of this diverse and beautiful part of the world.
Like all great journeys, an African safari is highly individualized and can accommodate a broad range of budgets and itineraries. However, one 8-day sample itinerary including the Okavango Delta and Victoria Falls saves $2725 per person using this limited offer.
In addition, children aged 6-16 years can travel at a 50% discount while accompanied by a full paying adult. Meanwhile, solo travellers will pay no single supplement on their flights or accommodation. This offer must be booked by March 31, 2014, and is valid for travel up to April 15, 2014.
Since 1970, Goway has been providing unforgettable travel experiences to Africa, Asia, Australia and New Zealand, idyllic island destinations and Latin America. Today Goway is recognized as one of North America's leading travel companies for individuals, families and groups to select exotic destinations around the globe. Goway has offices in Los Angeles, Vancouver, Toronto, and Sydney (Australia).
For reservations and information, visit http://www.goway.com, or call your Travel Professional on 1-800-387-8850.