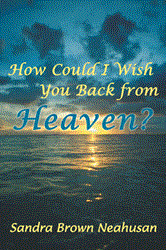 Venice, FL (PRWEB) January 22, 2014
After the loss of a loved one there are many emotional grief recovery roller coasters one rides on. Experiencing the initial shock and numbness takes all of our faculties just to cope.
Uncontrollable emotions start in the darkest of times, get a little easier to handle then gradually break into the ability to experience happiness again. Timetables cannot be set for our grief recovery. One persons winter may last longer than another's. Another's summer may come more quickly.
These are some experiences one might have:
Winter: Someone loved has died. That is the harsh fact we have to deal with. There are times when the sun doesn't shine. Everything smelled, thought or felt is reminiscent of the one lost .
Spring: Slowly the ice covering hearts begins to break and every once in a while a bud of sunshine comes through.
Summer: Laughing comes when it is least expected. Happiness is such a lost feeling that it startles. It is easier to be around other people and tears are more able to be controlled.
Fall: A complete cycle of grief recovery has almost been completed. The colors are brilliant again and the smells of the season are sharp and clear.
Winter will come again but it will be easier to get through.
An encouraging note from her Facebook page: Sandra Brown Neahusan Book, reads: "This book was a precious blessing to me as I read it. Yes, there were tears as I read but was inspired by the wonderful promises in Scripture and Sandra's testimony of the Lord's faithfulness. I would encourage anyone to read it, especially recent widows."
Sandra has a burden for others who have lost loved ones, especially spouses. She desires to be an encouragement in the time when grief is new and emotions are very raw. People sometimes have difficulty expressing the feelings of hopelessness, aloneness and despair that occur after the loss of someone special. Sandra courageously approaches these with honesty, compassion and humor.
A radio interview conducted with by Ann Corcoran Sandra on December 19, 2012 can be found on the website radiosrq.com.
Sandra and her husband were faithful followers of God and served their local church in many ways. She desires to continue serving Him as He leads. They worked in their local church and also with Southern Baptist Disaster Relief after Hurricanes Floyd and Katrina.
About the Author
Sandra Brown Neahusan is a graduate of Spring Arbor University. She has lead Ladies Bible Study groups and spoken at women's' church gatherings. At present she is facilitating a GriefShare Group at her church. She is available for speaking engagements to women's groups on grief recovery.