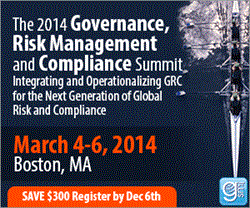 When asked about the value of GRC, Freedman responded, "A solid, comprehensive GRC program gives everyone a compass to always find 'true north.'
Boston, MA (PRWEB) January 22, 2014
GSMI is excited to announce Lance Freedman, Strategy Lead, Space Systems Company Finance & Business Operations for Lockheed Martin Corporation will be speaking at the GRC Summit Boston this March 4-6, 2014.
Freedman will be speaking on the topic of "Implementing a Robust GRC Strategy," on March 6th. When asked about the value of GRC, Freedman responded, "A solid, comprehensive GRC program gives everyone a compass to always find 'true north.' Changes in regulations, organizational structures GRC gives everyone the tools to do what's right, even when blazing new trails."
Freedman will also be leading a Panel Discussion on "Obtaining Leadership Support for IT and GRC Initiatives," in which panelists will discuss tips for understanding CEO views of GRC and IT and how to become a trusted business partner. Freedman states, "GRC must connect with the business strategy for tomorrow's revenue as well as it connects with today's operations."
After serving as the Deputy Program Manager for one Hall of Fame award-winning "Strategy Focused Organization" at Lockheed Martin, Freedman was promoted to Subject Matter Expert and deployed to help other businesses develop and manage their strategies. Drs. Bob Kaplan and David Norton featured some of Lance's work in their 2008 book The Execution Premium and their 2006 book Alignment, both published by Harvard Business School Press.
His work has also been recognized with a NLCP "Magellan" Award, an FLCP "Image" Award, and Lockheed Martin's "Pinnacle Award." Lance is also a certified Black Belt in Lean / Six Sigma operations. Today Lance leads the corporate support of the Space Systems Company IT Strategy function.
As GRC evolves into GRC 3.0, integration and operationalization across business strategy is key. This year's Summit will highlight best practices and lessons learned from leading companies in risk and compliance. The program has 4 unique session tracks including: Audit Management, Risk Management, Compliance and IT/Data Security. The Summit gathers leaders in the industry including OCEG fellows Brian Barnier and Michael Rasmussen to share thoughts on operational risk management, risk appetite and the future of GRC.
For more information please visit http://www.thegrcsummit.com. Early bird discounts are available before Friday, February 7th.
Twitter: @gsmionline
Facebook: Facebook.com/gsmiweb
Event Hashtag: #GRCSummit
Join the conversation with our LinkedIn Group:
http://www.linkedin.com/groups?gid=4242188&trk=myg_ugrp_ovr
GSMI is a leader in the industry of executive education, creating conferences, summits, workshops and training sessions that combine rich learning environments with the opportunity to network with today's most relevant thought leaders, speakers and practitioners. GSMI's annual events have reached 80% of the Fortune 500 companies, in over 30 countries, covering topics that today's leaders find most challenging and inspiring. More information about Global Strategic Management Institute's upcoming educational events for professionals, visit: http://www.gsmiweb.com.