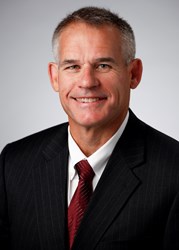 Doug is uniquely qualified to serve as the next dean of UNC Kenan-Flagler. He is a seasoned academic leader and an internationally recognized scholar and business educator.
Chapel Hill, N.C. (PRWEB) January 22, 2014
The next dean of the University of North Carolina at Chapel Hill Kenan-Flagler Business School will be Douglas A. Shackelford, Meade H. Willis Distinguished Professor of Taxation and associate dean of the MBA@UNC Program at UNC Kenan-Flagler.
UNC Chancellor Carol Folt and Executive Vice Chancellor and Provost James W. Dean Jr. selected Shackelford after an international search and the work of a search committee led by Susan King, dean of the UNC School of Journalism and Mass Communication.
"I had the opportunity to meet with the very talented candidates for this important role at UNC," Folt said. "Ultimately, Doug became the clear choice to lead UNC Kenan-Flagler and ensure its continued success."
Folt and Dean will recommend Shackelford as the next dean to the UNC Board of Trustees at their meeting this week, with an effective date of Feb. 1, 2014.
Shackelford succeeds Dean, who served as dean from 2008 until he became provost July 1, 2013. John P. Evans has been serving as interim dean since then.
"Doug is uniquely qualified to serve as the next dean of UNC Kenan-Flagler," Dean said. "He is a seasoned academic leader and an internationally recognized scholar and business educator. He loves the University and is a passionately engaged member of the UNC Kenan-Flagler community."
A UNC alumnus and North Carolina native, Shackelford has served on the UNC faculty since 1990. He is an award-winning researcher and teacher whose work focuses on taxes and business strategy.
"There is no greater honor than to guide this great business school, where faculty, staff and alumni care deeply about preparing our students – the next generation of leaders – and serving our alumni and other members of the business community through our research and outreach," said Shackelford.
"When I made the journey from rural North Carolina to Chapel Hill to attend college, I knew I was on the road to a better life, but I couldn't know then how truly powerful education can be," Shackelford said. "My Carolina education transformed my life, and I'm deeply committed to making sure that students in North Carolina and around the world receive the same kind of benefit so they can build better lives and contribute to their organizations and their communities."
Shackelford has served as associate dean of MBA@UNC, the innovative online MBA program, since 2010. He was senior associate dean for academic affairs from 2003-2007, and associate dean of the Master of Accounting (MAC) Program from 1998-2002. He is director of the UNC Tax Center, which he founded in 2001.
After he graduated from UNC with a B.S. in business in 1980, he worked as a senior tax consultant for Arthur Andersen & Co. in Boston and Greensboro, N.C., from 1981-1985. Shackelford then earned his Ph.D. from the University of Michigan, and joined the UNC faculty. He is a research associate in public economics at the National Bureau of Economic Research (NBER). He has held visiting faculty positions at Stanford University, Universiteit Maastricht in the Netherlands and Oxford University.
#
About the University of North Carolina Kenan-Flagler Business School
Consistently ranked one of the world's best business schools, UNC Kenan-Flagler is known for its collaborative culture that stems from its core values: excellence, leadership, integrity, community and teamwork. Professors excel at both teaching and research, and demonstrate unparalleled dedication to students. Graduates are effective, principled leaders who have the technical and managerial skills to deliver results in the global business environment. UNC Kenan-Flagler offers a rich portfolio of programs and extraordinary, real-life learning experiences: Undergraduate Business (BSBA), full-time MBA, Executive MBA Programs (Evening, Weekend and global OneMBA®), online MBA@UNC, UNC-Tsinghua Dual-Degree EMBA, Master of Accounting, PhD, Executive Development, and UNC Business Essentials programs. It is home to the Frank Hawkins Kenan Institute of Private Enterprise.