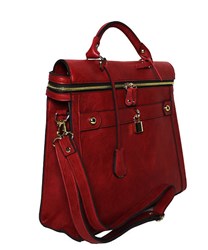 Boston, MA (PRWEB) January 28, 2014
FashionLabel.com, the leading website for aspiring fashion design students, emerging fashion designers, and fashion enthusiasts is proud to debut the Angela & Roi fall/winter handbag collection online.
Angela & Roi offers a variety of minimalist totes, mini and large crossbodys and shoulder bags that are modern and unique. Founded by Angela and Roi Lee, the couple turned handbag designers, developed a line of designer handbags that are stylish and affordable. Their company was founded on strong moral principles, prioritizing ethical and respectful treatment both for the environment and customers. Angela & Roi proudly uses vegan leather materials to make their statement handbags and they also cut out the middleman, by providing the most competitive prices in comparison to typical retail stores.
The popular handbag line also created a philanthropic concept to add to their brand. Customers can purchase a handbag color relevant to a particular organization and $5 will automatically be donated to the caus. Angela & Roi currently works with eleven non-profit organizations.
"We believe we could create a sustainable model where fashion consumerism meets philanthropy," says the designer duo. "Our 'Donate by Color' mission was created to support non-profits specializing in prevalent health issues."
Fashion forward customers can shop the collection online at http://www.fashionlabel.com/angela-roi.html.
About FashionLabel.com
FashionLabel showcases the hottest designs by emerging fashion talents. Fashion enthusiasts and consumers can discover the latest trends and shop for amazing fashion pieces in one central hub. Several fiercely creative designers have joined the FashionLabel community such as Danle Ding, Dora Yim, Jegman, Misile NY, and April 2nd. More fresh talents are coming onboard to showcase their fabulous creations. Fashion enthusiasts can find out more about the company, its products and services, by visiting http://www.fashionlabel.com.