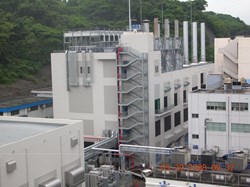 Houston, TX (PRWEB) January 23, 2014
The new track includes six comprehensive sessions that take place in conjunction with ELECTRIC POWER's other nine conference tracks. The CHP/cogeneration track gets under way on April 1 with a session that addresses CHP contracting and development approaches. The session is chaired by Samuel R. Barnes of Commonwealth Associates and Colin Vorse of Source One. Speakers will discuss the pros and cons behind a range of options that deal with ownership, contracting approaches and lease-back scenarios. Speakers for this session include Tim Mehl, Director of Development and Compliance at CMS Energy Corp.; and Jeff Perry, Chief Development Officer at Veolia Energy North America.
Operational considerations for CHP/cogeneration are addressed in a session on April 2 that is moderated by Colleen Campbell, Managing Director of Oakton Energy. Topics covered include an integrated approach for steam and power facilities, CHP in data center applications, and technical considerations in developing CHP in a university setting. The latter presentation features Juan Ontiveros, Executive Director of Utilities and Energy Management at the University of Texas. The university's Austin campus has grown from 10 million square feet in the late 1990s to more than 17 million square feet today, even as the environmental footprint from its power generating facilities has remained unchanged. Ontiveros is a nationally recognized leader in CHP/cogeneration for major institutions such as university campuses.
In addition to Ontiveros, a veritable Who's Who of experts in CHP/cogeneration will speak at or moderate conference sessions, including:
•Jeff Perry, Chief Development Officer, Veolia Energy North America
•Tony Laska, Owner, E&E Strategies
•Tim Mehl, Director of Development and Compliance, CMS Energy Corporation
•Paul Cauduro, Executive Director, Texas Combined Heat and Power Initiative
•Jack Kelly, Project Manager, Energy & Power Solutions Group, Jacobs Engineering
•Suresh Jambunathan, Director of Business Development, Recycled Energy Development
•Steven P. Yambor, PE, Senior Consultant, Commonwealth Associates, Inc.
ELECTRIC POWER 2014 takes place April 1-3 at the Ernest N. Morial Convention Center in New Orleans. The event offers multiple networking opportunities, including exhibit floor receptions, the Plant Management Institute, and Women in Power Generation. The 2014 Host Utility is Entergy Corporation. Full conference details and registration information are available at http://www.electricpowerexpo.com.