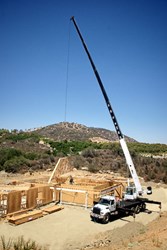 Birmingham, AL (PRWEB) January 21, 2014
Altec Industries, Inc., will exhibit multiple new crane options at ConExpo 2014 in Las Vegas, NV, Mar. 4-8. Ranging from 18 to 45 tons, each crane is a display of Altec's dedication to provide value to customers on crane safety, productivity and operator convenience. Visit Altec Booth #1827 in the Gold Lot for up-close viewing and hands-on operation of the latest Altec crane features.
I. New Cab Design Features Unveiled
Altec was the first boom truck crane manufacturer to offer a tilt cab feature, which debuted at ConExpo 2011. In 2014, Altec will unveil a new crane cab that improves safety and operator convenience.
Visit booth #1827 in the Gold Lot to view the new design, which has features not found on other mobile cranes. The new cab provides safe, convenient access to the crane controls throughout the range of rotation, which reduces slip/trip/fall hazard exposure on the job site. The top and front surfaces are shatter-resistant to protect the operator.
II. LMAP System Offers Simplicity
Designed with input from crane operators, Altec's Load Moment and Area Protection System (LMAP), has taken safety and productivity to the next level with a simple and intuitive user interface. A large, color display provides more information during operation.
III. Altec 45-Ton Crane Provides Superior Safety
Altec's newest equipment offering, the AC45-127S telescopic boom crane, offers best-in-class safety and operator convenience.
The AC45-127S is built with features that set a new benchmark in job site safety. These include the lower winch control, front entry cab and engine start/stop at the tail shelf, all which minimize slip/trip/fall hazard exposure. The tilt cab feature improves visibility while reducing operator neck strain and associated fatigue. A service-driven design simplifies preventative maintenance and reduces downtime. The LMI reel is mounted at the boom heel and protected by a metal cover, while the A2B cable is routed through the boom for better reliability. View the new cable and LMAP on an AC45-127S at ConExpo 2014.
Other Altec equipment to be showcased includes the AC18-70B and AC23-95B cranes, and HD35A pressure digger.
To learn more about Altec cranes and equipment, call 866.966.2969 or visit http://www.altec.com/cranes.
Altec is a leading equipment and service provider for the electric utility and construction markets. The company provides products and services in more than 100 countries throughout the world.