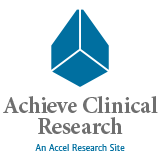 Nearly one of every three Americans has high levels of LDL cholesterol (the 'bad' kind). - American Heart Association
Birmingham, AL (PRWEB) January 22, 2014
*To see if you qualify for this High Cholesterol Clinical Trial in Alabama, visit Achieve Clinical Research on the web (http://www.achieveclinical.com/) or contact us directly at (205) 380-6434. There is no cost to participate, no insurance is required, and you may receive compensation for time and travel.
Study Design
This is an event driven, Phase 3 multi-center evaluation of the efficacy, safety, and tolerability of a new high cholesterol drug compared with placebo, in reducing the occurrence of major CV events in subjects at risk with LDL-C 70 mg/dL and less than 100 mg/dL or non-HDL-C 100 mg/dL and less than 130 mg/dL. After providing informed consent, there will be a screening visit followed by a run-in period of approximately 6 weeks, during which subjects will be assessed with respect to the trial enrollment criteria and initial compliance with the self administration of subcutaneous injections, followed by the treatment period, as illustrated in the study schematic below.
Duration of Study Participation
The trial is intended to complete when approximately 844 adjudicated and confirmed primary endpoint events have accrued after an approximate trial duration of 3.7 years.
Background & Rationale
This new form of high cholesterol medication works as a humanized monoclonal antibody against the proprotein convertase subtilisin kexin type 9 (PCSK9) enzyme responsible for the regulation of the low density lipoprotein receptor (LDLR), being developed for the following indications: (1) the treatment of primary hyperlipidemia or mixed dyslipidemia and (2) cardiovascular (CV) risk reduction, in subjects at high and very high risk of major cardiovascular events.
Cardiovascular disease (CVD) due to atherosclerosis continues to be the leading single cause of death in industrialized countries. High serum lipid levels, and especially high low density lipoprotein cholesterol (LDL-C) levels, have been demonstrated to strongly and directly correlate with cardiovascular disease risks by numerous epidemiological studies. Moreover, large prospective clinical outcome trials have demonstrated that lowering LDL-C decreases cardiovascular morbidity and mortality. Despite the availability of lipid lowering therapies such as statins and ezetimibe, a significant percentage of subjects at high risk for CVD fail to reach or maintain their LDL-C treatment target (less than 100 mg/dL for subjects without pre-existing CVD and less than 70 mg/dL for subjects with preexisting CVD), due to insufficient efficacy, safety concerns with high doses of current lipid lowering drugs and poor subject compliance.
Primary Objectives
The primary objective of this clinical trial is to demonstrate the superior efficacy of this new high cholesterol drug compared to a placebo in reducing the risk of major CV events, a composite endpoint which includes adjudicated and confirmed CV death, non-fatal myocardial infarction (MI), non-fatal stroke and hospitalization for unstable angina needing urgent revascularization (as defined in Appendix 4) in subjects at high or very high risk of major CV events who are on maximally tolerated background lipid lowering treatment but have an LDL-C of 70 mg/dL and less than 100 mg/dL or non-high density lipoprotein cholesterol (non-HDL-C) 100 mg/dL and less than 130 mg/dL.
Inclusion Criteria
Subjects must meet all of the following inclusion criteria to be eligible for enrollment into the study, with the one exception, that for CV risk factors, subjects may be eligible for recruitment if they have had a prior CVD event, as described in criterion 6, or if they have a CVD risk equivalent with two additional risk factors, as described in criterion 7:

Evidence of a personally signed and dated informed consent document indicating that the subject (or a legal representative) has been informed of all pertinent aspects of the study.
Willing and able to comply with scheduled visits, treatment plan, laboratory tests, and other study procedures.
Age: men or women aged 18 years for those with a confirmed prior CVD event; or men at least than 55 years old, or women, at least 65 years old with a CVD risk equivalent.
Willing and able to self-administer or be administered sub-cutaneous injections of investigational product.
Must be treated with atorvastatin, rosuvastatin, or simvastatin, at the highest locally approved dose. If at a lower dose, there must be documentation that the subject is receiving a maximally tolerated dose of the aforementioned statins, or that the subject is at his or her LDL-C or non-HDL-C target; and no dose should be lower than atorvastatin 20 mg, rosuvastatin 20 mg, or simvastatin 40 mg, once a day.
Subjects on simvastatin 80 mg must have been on this dose for longer than 1 year before screening.
All subjects must be on a stable dose at least 6 weeks prior to screening. There should be no plans at the time of screening and randomization to modify the dose of statin for the duration of the trial.
Source records and case report form (CRF) documentation of the above, must be shown.
Qualifying CV risk factor: prior CVD event.
A prior CVD event must be documented by source documentation that includes an anonymized hospital discharge summary describing the qualifying index CVD event diagnosis or surgical event and that includes documentation of the event's date of occurrence.
Qualifying prior CVD event:

Greater than thirty days but no more than five years post prior myocardial infarction as defined by the universal definition of MI (excluding those with MI due to cocaine abuse or vasospasm) or ischemic stroke, as documented by hospital discharge summary and brain imaging scan
Greater than one year but no more than five years post previous cardiac revascularization including PCI or CABG, as documented by hospital discharge summary
Pre- existing arterial revascularization, documented as a carotid, or peripheral artery revascularization, as defined as surgery or stent placement and documented by hospital discharge summary (at least one month but no more than five years prior to screening)
Qualifying CV risk factor: CVD risk equivalent with two additional risk factors:
Type I or Type II diabetes mellitus, as defined per local diabetes guidelines and 55 years of age for men and 65 years of age for women, with at least two of the following additional risk factors for CVD:
Evidence of coronary artery stenoses of greater than 50% narrowing in at least two major coronary arteries as documented by coronary artery imaging;
Current cigarette smoking, defined as smoking for 30 days or more (any number of cigarettes) at the time of screening;
HDL-C less than 40 mg/dL as measured at the screening visit;
hs-CRP greater than 2.0 mg/L documented within one year of the screening visit;
A glomerular filtration rate (GFR) 30 and 60 mL/min/1.73m2 (based on the creatinine measured at the screening visit, and as calculated by the MDRD formula).
Subject must have an LDL-C 70 mg/dL and less than 100 mg/dL or non-HDL-C 100 mg/dL and less than 130 mg/dL at Visit 3.
Male and female subjects of childbearing potential must agree to use a highly effective method of contraception throughout the study and for at least 63 days after the last dose of assigned treatment. A subject is of childbearing potential if, in the opinion of the investigator, he/she is biologically capable of having children and is sexually active.
Female subjects who are not of childbearing potential should meet at least one of the following criteria:
Have undergone a documented hysterectomy and/or bilateral oophorectomy;
Have medically confirmed ovarian failure, or
Achieved post-menopausal status, defined as: cessation of regular menses for at least 12 consecutive months with no alternative pathological or physiological cause; and have a serum follicle stimulating hormone (FSH) level within the laboratory's reference range for postmenopausal females.
*Achieve Clinical Research conducts Phase II-IV Clinical Trials in Alabama. For more information about participating in a High Cholesterol Clinical Study, please visit our website or contact us directly at (205) 380-6434.