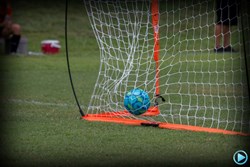 'We teach our players to play on and push through.' - Coach Zach Duda
Matthews, NC (PRWEB) January 29, 2014
Coach Zach Duda, owner of B.A.S.E. Training, has turned his passion for sport, competition and character into a business that is helping children throughout the South Charlotte and Fort Mill area. B.A.S.E. training was developed to help children from ages eight to eighteen reach their athletic potential. This new sports performance training includes the physical and technical parts of the sports, but also the mental side of the game.
The name of the company was created to stand for the four components of an athlete: Balance, Agility, Speed and Explosiveness. Coach Zach believes those four components, plus the mental part of a sport, are important in all sports. He and his fellow trainers believe in also teaching the importance of drive, dedication and character in their sessions with the young ones. With the four components of an athlete, a strong mental game to read and anticipate the game, and having good character will bring chances for college opportunities. B.A.S.E. offers specific sport training in soccer and basketball, but holds good workouts for all sports. These training sessions include one-on-one and group training, but also holds events during the spring, summer and winter. This is all to open the opportunity for year round training so the players can better their chances and themselves in their sport and future endeavors.
For more Information and updates from B.A.S.E. Training, visit their website http://www.basetathletics.com.