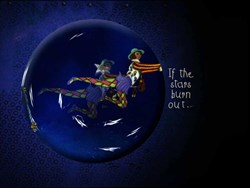 "One More Dream" isn't just for heroes: it's for any of us trying to get through this roller-coaster life.
Seattle, WA (PRWEB) January 23, 2014
People (and songs) say that "Life is but a dream," but for author-artist Cooper Edens that isn't just a nice line. "The real world IS a dream," Cooper says, "and the dream world is real." So readers shouldn't be surprised if his new App, "Cooper Edens One More Star," doesn't read like a traditional "story."
"There are no classic quests in my books. I don't have characters who go away to the dream world and then return to reality." You might say his works provide moments of clarity rather than an A-to-B narrative, haiku-like riddles rather than one-size-fits-all morals. One way to think of it is that "One More Dream" isn't just for heroes: it's for any of us trying to get through this roller-coaster life. It's not mythical, it's up-close and personal.
To create that dream/reality, Cooper riffs on traditional, even classical styles of illustration and storytelling, but from a very different point of view. The ideas (simple/profound) and the images (impressionist/surreal) connect in totally unexpected, but meaningful, ways. The overall affect can be both challenging and comforting, physical and spiritual. And the new App based on one of his works gives new depth to his quirky vision.
"One More Star" is the second of his books that have been re-created as an App, and Cooper sees the technology as adding new dimensions to the dream/reality he describes. "First of all, we've got great animations, and as a result we've got the time-and-motion thing going on, the feeling of moving through space, music and sound effects, and the different ways different readers can play with the animations, or just turn the page. I think the App helps us include the reader in an experience that's more unexpected and entertaining, and more personal."
While many think of him as a children's book author, he thinks the real audience for these works are adults, with more experience of life's ups and downs. You can get a sense of how these more mature folks feel about Cooper's vision from their reviews of Cooper's books on Amazon; there are clearly a lot of adults who feel find strength in his world.
"My books are reminders, I think, that we are in control of our perceptions, and of our reality. We're all going to have challenges in life, but it's not all out of our control. We play a part in creating this reality, and joy is there to be experienced, if we choose to see it."
"Cooper Edens One More Star" is available, for the iPad, from the App Store—$8.99. (https://itunes.apple.com/us/app/cooper-edens-one-more-star/id792154901?mt=8)
About Cooper Edens: Cooper Edens is a Seattle-based author and artist. He has written and illustrated original works, like "If You're Afraid of the Dark," "The Star Cleaners Reunion," Secret Friends" and "Caretakers of Wonder." He has also compiled a number of "Classic Illustrated Editions" of The Adventures of Alice in Wonderland, Robin Hood, Tales from the Brothers Grimm, and others.
About Lucid Dream Atelier: Lucid Dream Atelier, Inc. creates, develops and publishes digital graphic books and apps. "Cooper Edens One More Star," is their fifth publication, and their second collaboration with Cooper Edens. ("Cooper Edens Night Rainbow" is also available from the App Store, https://itunes.apple.com/us/app/cooper-edens-night-rainbow/id694877155?mt=8&ign-mpt=uo%3D2.)