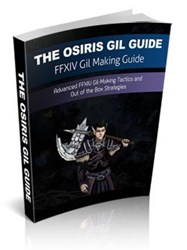 (PRWEB) January 21, 2014
OsirisMethod.com has just published a new Blacksmithing leveling guide for Final Fantasy XIV. The new guide is completely up to date with patch 2.1 and can be found in full at http://www.osirismethod.com/ffxiv-blacksmith-leveling-guide/.
In Final Fantasy XIV, players can level up professions outside of their regular adventuring classes in order to craft equipment and consumable goods. However, unlike other MMORPG games, leveling up professions in Final Fantasy XIV tends to be particularly time-consuming and expensive. Unlike other games where professions are just a skill that can be leveled up quickly, professions in Final Fantasy XIV are classes in and of themselves that use the same leveling system as if they were an adventuring job. Many players find it more difficult to level their Blacksmith to level 50 than they do to level an adventuring class like a Warrior!
Blacksmithing is one of the most popular professions in FFXIV as it is used to create most of the crafting tools in Final Fantasy XIV. However, as it is one of the most lucrative professions in FFXIV, it is also one of the most expensive professions to level up. The new guide provided by OsirisMethod.com is designed to help reduce this cost to make leveling Blacksmithing more affordable to all players.
The new guide is completely up to date for the recent version 2.1 patch. This patch significantly changed the way crafts were leveled in FFXIV, as it increased the amount of experience points offered by non-repeatable leves. Previously, repeatable leves were the only efficient way to level up a class in FFXIV. These leves allow players to turn them in multiple times off of just a single leve allowance.
The downside to repeatable leves is that these leves require more materials than regular leves and as a result can be expensive. The expense of these leves is particularly noticeable for Blacksmithing. The new guide published to OsirisMethod.com takes the recent change into account by also listing the most economical alternative to a repeatable leve in each level range.
About OsirisMethod.com
OsirisMethod.com is a popular strategy site dedicated to PC game strategies and news, with a particular focus on Starcraft 2, FFXIV, and Diablo 3. OsirisMethod.com is also home to The Osiris Gil Guide, a guide that teaches players how to make large amounts of gil, the in-game currency. The Osiris Gil Guide can be found in full at http://www.osirismethod.com/ffxiv-gil-guide/.
Regular news and strategies are published to the Osiris Method blog, which can be found at http://www.osirismethod.com/blog/.