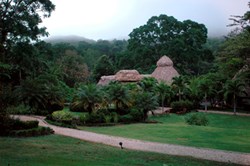 It's now possible to wake up in the midst of a pristine tropical rainforest and then spend your afternoon snorkeling in clear Caribbean waters.
San Ignacio, Belize (PRWEB) January 23, 2014
All-Inclusive Belizean Vacation packages are becoming increasingly popular this year, according to The Lodge at Chaa Creek, and the Belizean eco-resort's general manager said several reasons for this trend have recently emerged.
Lucy Fleming, who with her husband Mick turned their family farm into Belize's first eco resort some 30 years ago, said that factors such as time management, security and value for money are some of the reasons driving the popularity of all-inclusive vacation packages in Belize.
"Since we first began offering all-inclusive vacation packages they've grown steadily more popular, but there has been a noticeable surge in the last few years, and recent feedback from our guests shows why," Ms Fleming said.
"One reason commonly given is that people want to make the most of their holiday time, and rather than micro-manage every aspect of their vacation, they're happier to leave it to local professionals whom they trust.
"Another reason we hear is safety and security. With an all-inclusive vacation, travelers are looked after from the moment they are picked up at the international airport until we drop them back off, and this translates into a more attractive, carefree experience," Ms Fleming said.
All-inclusive vacation packages also offer better value as opposed to itemizing and paying for each aspect of a vacation, Ms Fleming said.
"At Chaa Creek, for example, we're situated in the midst of a private 365 acre nature reserve on the banks of the Macal River in Belize, and over the years have been able to develop a wide variety of features, such as miles of well-maintained trails, stables, canoes, an educational Belize Natural History Centre, butterfly farm, infinity pool, our Hilltop Spa and fine dining restaurant and lounge. And being located in the heart of the ancient Maya civilisation, we have over 70 recorded Maya archaeological sites within our property, as well as a Maya medicinal plant trail, Maya organic farm and an ancient temple.
"All of this has been developed over the years, so that now we're often referred to as Belize's 'destination within a destination', offering an array of tours and activities such as cultural and nature walks as well as birding with professional guides, which means our guests can enjoy a complete Belize holiday without leaving Chaa Creek."
Ms Fleming said that overall improvements in Belize's tourism infrastructure, such as the recent addition of a nearby airstrip with regular flights to Belize's Caribbean coast, islands and the western hemisphere's largest barrier reef and atolls have also made the resort's all-inclusive "Rainforest to Reef" vacation packages more popular.
"It's now possible to wake up in the midst of a pristine tropical rainforest and then spend your afternoon snorkelling in the clear Caribbean waters off one of our colleagues' beaches, and all for one set price that includes everything from accommodation to meals, transfers and even staff gratuities.
"With everything arranged by professionals with an intimate knowledge of the country, and no surprises or hidden costs, all-inclusive packages make for a very secure vacation with one affordable upfront cost, and couples, families, groups and individuals are responding very positively to this," she said.
The Lodge at Chaa Creek is an award winning eco resort located in a 365 acre private nature reserve in Belize.