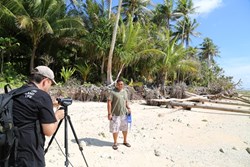 For the residents of atolls in the Pacific Ocean, there is no question that their land is being lost to the rising sea.
Honolulu, Hawaii (PRWEB) January 22, 2014
Pacific Islanders in Micronesia, Palau and the Marshall Islands are watching their homelands vanish, as sea levels rise at an alarming rate due to climate change. The devastating effects on island livelihood are documented in three new videos "Vanishing Islands," "Changing Palau," and "Encroaching Seas" by LYON.US.com, a Hawaii-based planning and engineering firm working in the region for 53 years. All videos are available for viewing at http://www.lyon.us.com. According to LYON President Jim Lyon, concerns of land erosion, freshwater, and food security are threatening mass migration to more crowded islands.
With an elevation of less than 10 feet, the low-lying atolls are especially vulnerable to sea level rise. "People all over the world talk about climate change and how the sea level is going to rise. This is the front line of the battle. We are on the front line. The decisions they make out there, we suffer here," said John Rulmal, a resident of Ulithi Island, in the Federated States of Micronesia. In certain areas, hundreds of feet of shoreline have washed away, taking with it homes, crops, and infrastructure. Not only are homes being washed away, droughts are causing freshwater shortages and their main food sources are being drowned in salty sea water.
As island engineers, LYON has been witnessing first-hand the suffering of island communities. With 3.4 million people scattered across hundreds of islands, the islands are in need of resources for water catchment tanks, new salt-resistant crops to secure their future in this changing world. LYON aims to share their dire realities with the world in hopes to secure funding and support for these communities.
US Senator Brian Schatz of Hawaii explains in the video that the "sea level is rising. Climate is changing. There is now international scientific consensus. Now it's totally incontrovertible and the only place where there's remaining debate about the science of climate change is in the halls of the US congress." LYON's goal is to spread the voice of remote islanders to international institutions with resources to act immediately. The videos pave the way for direct and immediate impact on worldwide climate change initiatives by advancing the voices of the front-line communities. The time to act is now.
About LYON
LYON.US.com is a family-owned consultancy providing planning, environmental, and engineering services since 1961. LYON is headquartered in Honolulu, HI and has ten international offices. LYON is committed to serving the unique needs and conditions of island-based work.
# # #