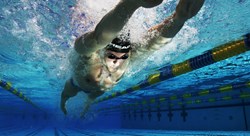 Florida Keys, FL (PRWEB) January 22, 2014
The premier swimming program, The Race Club, announces the 5 swimmers to be featured in their latest web series on swimming techniques to be filmed in February. The five swimmers confirmed for the talent of the production are: Rebecca Soni, Roland Schoeman, Junya Koga, Zach Hayden and Lexie Kelly.
Rebecca Soni, from Los Angeles, CA, is an Olympic Gold and Silver medalist in 2008 and 2012 and world record holder. Hailing from South Africa, Roland Schoeman has 3 Olympic medals and has swum in 4 Olympic Games from 2004 to 2012. Junya Koga is a professional swimmer from Japan. Zach Hayden, who represents the United Kingdom, swims sprint freestyle events and breaststroke. Lexie Kelly, from Long Beach, CA is a world record holder in open water swimming.
Using super high speed cameras, The Race Club plans to capture a diverse variety of swimming drills and techniques. The new web series will be available at http://www.theraceclub.com/category/videos/.
Over the years, the training program used at The Race Club to coach proper swimming technique has been developed from working with swimmers from beginner to Olympic levels.
For more information about the athletes or The Race Club, please contact Amy Hall or visit http://www.theraceclub.com.
About The Race Club:
Established in 2003, The Race Club is directed and coached by Dr. Hall, a three-time Olympic medalist (1968, 1972, and 1976). Dr. Hall draws on his many years of being an ophthalmologist for his bio-mechanical approach to understanding and coaching the fundamentals of fast swimming techniques. The Race Club offers five swim camps year round for swimmers to come and practice with the best to improve their technique. For more information, please visit theraceclub.net or call 877-SWIM-RACE.