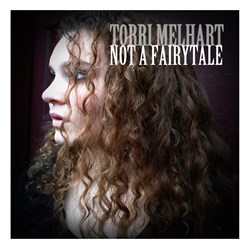 "I started this album when I was very confused about things going on in my life. But by putting my thoughts and feelings on paper, I was able to sort through them."
Philadelphia, PA (PRWEB) January 23, 2014
It's not easy growing up as a teenage girl in today's world, but for 15-year-old singer/songwriter Torri Melhart, family struggles have provided inspiration for her 10-song sophomore album, "Not A Fairytale," available on iTunes starting January 28.
While her Alt-country/Americana music has evolved since the release of her debut EP in March 2013, her unique voice still portrays a girlish vulnerability that tweens and teens can easily identify with. However, it's her clever, catchy songwriting that sets her apart on her latest effort, which focuses squarely on the challenges she faced coping with the recent divorce of her parents.
"I put a lot more of myself and my own experiences into my new album," she explains. In doing so, the time Torri spent on songwriting became a very emotional process for her, as she opens up about some very personal moments in her lyrics. "I've definitely gotten stronger in the past year," she says, and it shows in her growing confidence as a musician who has been "paying her dues."
But it's not an entirely dark album, thanks to several songs that serve as musical thank you notes to her friends, relatives, and fans that have been supporting her and continue to help her through this challenging stage of her life.
"The message behind the music is that life isn't perfect and nobody should expect it to be, but there's no sense dwelling on the past when there's nothing you can do to change it," says Torri. "I started this album when I was very confused about things going on in my life, but by putting my thoughts and feelings on paper, I was able to sort through them."
Thanks to the success of her first release on iTunes, "Torri Melhart - The Acoustic Sessions EP", her budget for "Not A Fairytale" was ten times larger than she previously worked with. She was able to incorporate a backing band on the new CD, fronted by fellow 15-year-old Radka Kasparcova, a guitar prodigy she met online and whose friendship has made working together a joy. "I am so thankful for Radka and I couldn't imagine having a better friend and musician by my side to record these songs with me." Radka even traveled with Torri (and their families) to Nashville last summer, where they played at several venues, including the famous Bluebird Café.
Torri has a well-earned reputation for writing honest, country-soaked music that seems to connect with people of all ages, garnering her a legion of loyal fans at her shows and through social media sites such as Twitter, Facebook, and ReverbNation. Her online presence underscores her rising stardom with thousands of devoted "Melhearts" which keeps her busy. "There are so many really sweet fans that cheer me on and leave messages," although she admits it's sometimes very time-consuming to keep up with all of their tweets and posts. "I want to make sure people know that I'm just a regular girl with the same problems they have, and I'll talk to them."
Along with preparing the new CD and upcoming live shows, Torri spent the past year performing throughout eastern and central PA as well as Nashville and New York City, where she was featured on the Pop City Tour with teen "X-Factor" finalist Reed Deming.
But she also has a heart as big as her voice, and she believes in giving back. Last summer, Torri spent a week in rural Kentucky with members of her church at A.S.P., a mission project to help rebuild houses for people in need. "I have been very blessed in my life, and even though things don't always go great, I never want to take all the wonderful things I've been given for granted," she adds. She'll be going there again this summer as well.