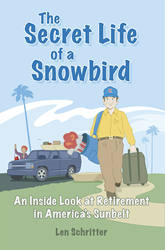 "The wit and humor that the author uses to describe his adventures and misadventures is truly enjoyable. Len Schritter is a remarkable storyteller," writes Jenny McKinney and Patrick McKinney in Your Guide to Retirement Planning on About.com.
Chandler, AZ (PRWEB) January 23, 2014
The recent plunging temperatures, icy roads and the back-breaking chore of shoveling snow––over and over and over––has cold-climate residents dreaming of exchanging their snowplows for golf carts, trading boots for flip flops and spending winters in the sunbelt. Before taking the plunge, however, prospective snowbirds should educate themselves with The Secret Life of a Snowbird: An Inside Look at Retirement in America's Sunbelt by Len Schritter.
Whether a cold-weather inhabitant drooling at the idea of "desert-ing" the cold or a snowbird spreading wings for the first time, readers will appreciate Schritter's true and often comedic take on being an Arizona snowbird. An Idaho farmer and desert dweller himself, Schritter shares his ironic experiences including the time a strange woman wanted to rub her pig on him for good luck, the "joys" of being a potato farmer at a flea market, a run-in with the weed police, the allure of tequila and the oddities of the aging population.
Schritter is a retired third-generation farmer and rancher from Aberdeen, Idaho, where he, along with his brother Mike, ran a 3,500-acre farm on which potatoes, sugar beets, and wheat were grown. After having "enough winters to last a lifetime," he and his wife, Diana, decided to migrate to Mesa, Arizona every year before the first snowflakes hit the ground. Eventually, they permanently relocated to Mesa, where they now enjoy full-time residency.
The Secret Life of a Snowbird: An Inside Look at Retirement in America's Sunbelt (ISBN: 978-1-58985-074-3, paperback, $15.95) is Schritter's first book. He is currently putting his finishing touches on his second one.
For more information on The Secret Life of a Snowbird, published by Five Star Publications, Inc. and distributed through Ingram and Baker & Taylor, visit http://fivestarpublications.com/snowbird/. Review copies are available to the media upon request. Readers can also check out Schritter's latest musings at http://fivestarpublications.com/snowbird/blog.html.
To learn more about Five Star Publications, Inc., which celebrates 28 years in business, and its other award-winning books, visit the http://www.FiveStarPublications.com, email info(at)FiveStarPublications(dot)com or call 480-940-8182.