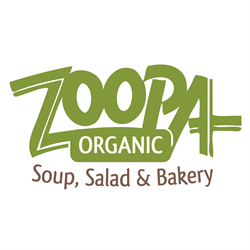 Zoopa, primarily a soup, salad, bakery concept leaves nothing to worry for a carnivore
Seattle, WA (PRWEB) January 22, 2014
Zoopa (EatZoopa.com) has been revived from a 14-month hiatus. New owner is a cancer survivor after a terminal diagnosis nearly 15 years ago. He has set up Zoopa to be a place where people feel care for and can enjoy amazing meals. The first Zoopa Organic is located in Tukwila just south of the Westfield Mall at Southcenter.
Flanked with what is being touted as the latest and greatest restaurant management technology thanks to some help from a Microsoft business software system backbone, Zoopa is set to wow visitors with a truly healthy and fun experience. Zoopa, primarily a soup, salad, bakery concept leaves nothing to worry for a carnivore as they also offer a number of fresh grilled meat and seafood options and the chefs have gone to great lengths to secure the very best ingredients possible.
The Seattle eatery known for amazing salads, baked goods, fresh food and desserts in a all-you-can-eat buffet style setting dwindled in notoriety in its final years before closing in late 2012. Food quality and overall attitude took a toll with out-of-state ownership. New, local owners and partnerships with Freggies Organic Produce, Full Tilt Ice Cream, Seattle Bagel Bakery as well a bringing in one of Seattle's top chef's, Joe Ladine, make Zoopa the place to eat in 2014 and beyond.
Zoopa is officially relaunching itself into the Seattle food scene on January 30th and the following week with a soft schedule and then a full schedule beginning February 7th. For more information about Zoopa, visit EatZoopa.com.