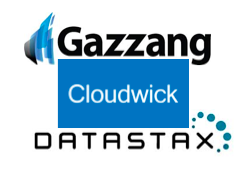 In the last year we have seen a rapid acceleration of enterprise database migration projects from Oracle SQL to DataStax Enterprise NoSQL, said Mani Chhabra, Cloudwick CEO
San Jose, California (PRWEB) January 22, 2014
DataStax Partner Showcase - San Jose CA - Cloudwick, the big data systems integration leader and Gazzang, the big data security experts, today announced a partnership to accelerate the enterprise migration from Oracle SQL to the newer, faster and more scalable DataStax Enterprise.
The Cloudwick-Gazzang partnership leverages the power of Gazzang's big data security solutions and Cloudwick's big data system integration expertise to help enterprises protect sensitive big data while maintaining DataStax Enterprise high performance in the cloud and on premises.
"In the last year we have seen a rapid acceleration of enterprise database migration projects from Oracle SQL to DataStax Enterprise NoSQL," said Mani Chhabra, Cloudwick CEO. "As a provider of big data systems integration to Bank of America, Visa, Intuit, JP Morgan, Home Depot, Wal-Mart, Comcast, T-Mobile and 3M, Cloudwick understands the criticality of protecting big data and has found success doing this for the enterprise with Gazzang."
As part of the partnership Gazzang delivered a partner training and certification program to more than 50 Cloudwick engineers and consultants, focused on installing, operating and managing Gazzang solutions for DataStax Enterprise. Additionally, Gazzang has licensed its software to Cloudwick Labs to develop best practices and reference architectures for protecting big data in the enterprise using DataStax.
"As adoption of DataStax Enterprise grows, organizations are looking for integration partners that can migrate their data and ensure sensitive information – medical records, payment card data, corporate intellectual property and personally identifiable information on behalf of clients – remains secure and confidential," said Larry Warnock, president and CEO of Gazzang. "Today, all Cloudwick customers can see firsthand the power of our big data security solutions and make more informed decisions about how to encrypt and protect their valuable information."
About Cloudwick
Cloudwick is the leader in big data people, process and technology transformation. With more than 75,000 hours big data services to leading Fortune 1000 clients like Bank of America, Walmart, Visa, Comcast, T-Mobile, Home Depot, 3M, Intuit and NetApp Cloudwick is the right partner for your big data project. For more information, visit http://www.cloudwick.com.
About Gazzang
Gazzang provides data security solutions and expertise to help enterprises protect sensitive information and maintain performance in big data and cloud environments. Our technology enables SaaS vendors, health care organizations, financial institutions, public sector agencies and more to meet regulatory compliance initiatives, secure personally identifiable information and prevent unauthorized access to sensitive data and systems. The company is headquartered in Austin, Texas and backed by Austin Ventures and Silver Creek Ventures. For more information, visit http://www.gazzang.com.