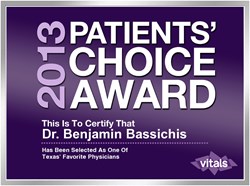 I'm honored to receive an award that's based on how my patients view the quality of care and results I provide.
Dallas, Texas (PRWEB) January 23, 2014
Among the select few physicians honored with the prestigious Patients' Choice Award is Dallas' Top Facial Plastic Surgeon Dr. Benjamin Bassichis. In fact, of the nation's 870,000 active physicians and dentists, just five percent received top scores from their patients on sites like Vitals, qualifying them for this honor in 2013.
Millions of patients go online each year to rate their doctors on various components of care, including accuracy of their diagnosis, the amount of time they spent with the doctor, and the doctor's bedside manner and follow-up care. Patients' Choice reviews these rankings and other quality measures to compile its yearly list of award winners.
Dr. Benjamin Bassichis commented on the recognition: "I'm honored to receive an award that's based on how my patients view the quality of care and results I provide. Together with my fantastic clinical team, I strive each day to exceed my patients' expectations. I'm so appreciative that our efforts are recognized in such a significant way."
As director of the Advanced Facial Plastic Surgery Center in Dallas, Dr. Bassichis is a double-board certified facial plastic surgeon specializing exclusively in cosmetic and reconstructive procedures of the face. Voted one of the Top Plastic Surgeons in Dallas and Best Physician in America, Dr. Bassichis provides the most advanced surgical and non-surgical treatments for facial rejuvenation. To learn more about natural, healthy aesthetic results from Dr. Bassichis including a press kit, please call 972-774-1777 or view the website at http://www.advancedfacialplastic.com.
For more information on this Patients' Choice Award winner Dr. Benjamin Bassichis and his award winning practice the ADVANCED FACIAL PLASTIC SURGERY CENTER, located in Dallas, TX please call 972-774-1777 or visit Dr. Benjamin Bassichis' profile on Vitals.com.
Following the publication of Benjamin Bassichis's selection for the Patient's Choice Award, American Registry seconded the honor and added Dr. Bassichis to The Registry™ of Business Excellence. American Registry, LLC, recognizes excellence in top businesses and professionals. The Registry™ includes over 2 million significant business and professional recognitions.
Patients' Choice provides in-depth information on doctors in your area who have been recognized and awarded for outstanding patient care and expertise. The Patients' Choice Award is the honor roll of top physicians who have received the highest ratings by their patients.