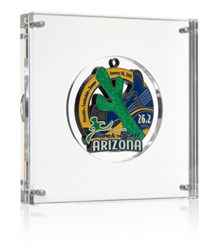 Phoenix, Arizona (PRWEB) January 23, 2014
Patrick Dolan had a great idea and he ran with it. Today it's the basis of the successful new company he started. What is it? A clever new design for displaying awards—what he calls Medal Blocks. Almost single-handedly, Dolan is changing the way amateur athletes and competitive hobbyists show off their accomplishments.
Medal Blocks are different, and they have a patent pending to prove it. Their sleek good looks and streamlined, easy-to-assemble design is constructed from blocks of clear acrylic held together by strategically placed magnets. They suspend the medallion or pendant in a transparent box, creating an attractive decorative piece for desktops, bookshelves, dressers or countertops.
Dolan came by his idea naturally. "I've been a runner for 30 years, and I accumulated a lot of medals for finishing—and sometimes winning—events," he explains. "I have a lot of medals that I really cherish, but I never knew what to do with them."
He searched everywhere for a simple, inexpensive, good-looking display for his mementos, but to little avail.
"Sometimes I paid hundreds of dollars for custom frames," Dolan says. But ultimately, nothing suited both his vision and his budget. "I decided to come up with my own design and engineer a way to make it affordable. I figured there must be hundreds of thousands of runners and event finishers out there just like me who are looking for a nice way to mount and display their awards without spending a bundle."
The rest is history. Dolan applied for a patent and launched Medals Blocks in 2013, rolling out the original, strapless clear design first, and a second frame concept later in the year.
Sales were brisk this past holiday season. Customers are attracted to the eye-catching, clear acrylic framing block, and the simplicity of its assembly. Starting at $22.95, Medal Blocks are an affordable solution to a common problem.
Dolan has wasted no time getting Medal Blocks off and, yes, running. The company has already participated as a sponsor in multiple events, including the Emmitsburg Turkey Trot in Maryland, and the Jingle Bell Run in Arizona, with plans for several more sponsorships in 2014. Medal Blocks is also a proud member of Road Racers Club of America, Running USA and the American Volkssport Association, an organization dedicated to personal fitness through various types of activities.
Dolan is eager to let runners, walkers, soccer players, and amateur competitors of every stripe know about his one-of-a-kind solution for displaying their awards. "I figure you earned the medal for something you've achieved; you should be proud of it. It's a shame to hide it in a shoebox. Why not show it off, and make a tasteful decorative piece out of it at the same time?"
About Medal Blocks
Medal Blocks (http://www.MedalBlocks.com) designs and produces a patent-pending line of medal display cases. Intended for use by amateur athletes and competitive hobby enthusiasts of all kinds, Medal Blocks help people commemorate special events in their lives and celebrate the pride of their accomplishments. Rely on Medal Blocks to preserve your moment in tasteful mounting displays that add a decorative touch to your home or workplace.