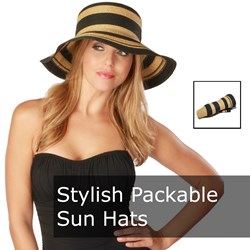 Packability is key. It allows sun hats to fit in a suitcase or beach bag without being damaged.
San Francisco, CA (PRWEB) January 22, 2014
SolEscapes recommends that vacationers bring packable sun hats on their warm weather vacations. Wearing a sun hat while vacationing in the tropics shields the skin and eyes from potential sun damage so that the cruise or tropical resort vacation may be fully enjoyed. Additionally, sun hats are a stylish accessory, a great addition to a vacationers resort wear outfits.
Popular activities during cruise, resort or beach vacations often mean spending time in the sun: lounging by the pool, playing volleyball, strolling on the beach, or exploring a tropical port of call. Protecting the skin from the sun is vital to keep the vacation fun and pain-free, and help protect against the potential long-term effects of the sun's rays. A sun hat with a wide brim and 50+ UPF rating is a crucial component to a sun protection regimen.
Packability is key. It allows sun hats to fit in a suitcase or beach bag without being damaged. SolEscapes stylish sun hats from Physician Endorsed, Gottex and Profile by Gottex are also lightweight and breathable, ideal for portability and comfort alike. Most of the hats are tested and rated 50+ UPF, giving maximum sun protection.
While a sun hat's vital role is to protect the skin from the harmful rays of the sun, it does not need to look utilitarian. SolEscapes offerings are awash with style and accessorize a vacation wardrobe beautifully. Styles range from fun straw Fedora hats to gorgeous picture hats. Details such as ribbon trims, metallic threads, and sophisticated wide brims imbue a glamorous quality. A variety of materials offer different looks: sporty terry, casual cotton, pretty ribbon, glamorous metallic, and more. The large color selection makes it easy to coordinate hats with vacation attire.
SolEscapes stocks more than 130 styles of sun hats. The following are a few examples of fashionable hats that would pack perfectly for a cruise or tropical resort getaway, all designed to be packed and offering 50+ UPF protection.

Infinity packs fun and color in a perfectly sized Toyo straw hat with a 5" brim. Two color ways, Blue Multi and Rose Multi have a beautiful range of hues. The memory wire brim allows custom styling, and the head size can be adjusted with an internal drawstring. $55
Kismet's gold accents add a glamorous touch to a packable hat. Made of straw, it has a 3.5" brim, and comes in White/Gold and Black/Gold, and would be an elegant accessory at a resort or on a cruise. $60
Castaway is a canvas bucket hat with a playful fringed 3.75" brim. In White or Black, Castaway's fun, casual styling is perfect at the beach, playground or pool. The size is adjustable, and it's washable, making it a practical – as well as fashionable choice. $37
Morgana sports a dramatic 6" brim with memory wire, so it can be shaped as desired. Its internal drawstring makes for a flattering and comfortable fit. Made of Toyo straw and metallic thread, Morgana offers three dramatic color options – white/gold, black/gold and white/black/gold. $83
Tara is made of micro-terry, which wicks water away, dries quickly, and provides comfort along with a sporty vibe. The 5" brim and Black or White color options will complement a pool or beach look. $48
Jackie G is a fedora with style in three two-toned color options – White/Natural, Natural/Hot pink and Gold. Accessorizing a resort wear outfit with Jackie G will add a fun, trendy touch. It's made of straw with a 2" brim. $35
It is important to remember that a full sun protection package includes sun hats, protective clothing, sunscreen and sunglasses. In addition to sun hats, SolEscapes offers an assortment of high-quality, stylish sun-protection products, including swim shirts, rash guards, COOLA organic sunscreen and chic sunglasses. Persolé personal sun umbrellas provide classy shade on-the-go.
SolEscapes is a California based online boutique offering a unique selection of stylish and practical sun, beach and resort essentials for all warm weather needs. SolEscapes offers personalized service, high quality products and fast, affordable shipping. Merchandise, including all beach hats, is carefully and beautifully packaged to ensure a perfect arrival. For more information, please visit SolEscapes.com. You can also connect with SolEscapes on Facebook, Twitter and Pinterest.