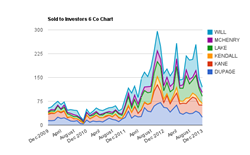 (PRWEB) January 22, 2014
In December of 2013, the number of new foreclosures coming on to the market increased by 7.53 percent while the number of properties sold to investors decreased by 12.46 percent for the 7 Chicagoland counties (Cook, Dupage, Lake, Kane, Kendall, McHenry, and Will). During a more normal month, these numbers would be quite concerning, but the poor showing in December can most likely be attributed to the multiple national holidays that occur within the month's borders and limit the number of days auctions can occur as well as the number of people locally who will be available to attend them. The REO (properties that didn't sell at auction and reverted to the lender) numbers also dropped in December, decreasing by 4.69 percent and contributing to the decrease in overall resolved foreclosures for the month (both REO and sold at auction). In fact, the number of completed foreclosures dropped 5.72 percent from November 2013 to December 2013.
However, as mentioned, the yearly statistics for 2013 are much more promising than the dire appearances shown by the last month of the year. In fact, there is nothing but good news to report for the overall yearly numbers of 2013. Perhaps the most important indicator of future foreclosure activity, the amount of new foreclosures in the area dropped by 40.48 throughout the year, which means that the market is slowly moving toward a healthier place than it was in during 2012. Less properties falling into foreclosure means that the real estate market and people's ability to maintain payment on their properties is stabilizing. This positive indicator is only bolstered by the auction numbers for 2013. There was a 19.19 percent increase from year end 2012 to year end 2013 for properties sold to investors which means that more people invested in foreclosed properties this year than last. Chicagoland REO properties also experienced a loss year-to-year, dropping 14.57 percent since 2012. This indicates that fewer properties are reverting to a lender which is probably a reflection of the increase in sales at the auction.
A few of the specific counties posted significant change ratios this year and they impacted the overall numbers as a result. Some of the yearly increase for properties sold to investors is due to Cook County which increased individually by 30.61 percent this year. Small counties like Kane and Kendall also contributed – though their sphere of influence is more limited – by increasing 34.18 percent and 45.78 percent respectively for the year. Other counties did their part by simply lowering the amount of new properties that fell into foreclosure for the year. The forerunners for positive change were Kendall and Lake Counties which decreased their number of new foreclosures from 2012 to 2013 by 43.96 percent and 43.74 percent respectively.
Overall, 2013 has proven itself to be a year of impressive change for the Chicago and Illinois real estate markets.