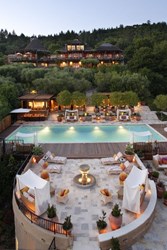 Thanks go to all of our valued staff, whose dedication enables us to expand on the Auberge's legacy of award-winning hospitality." said George Goeggel, Managing Partner
Rutherford, CA (PRWEB) January 23, 2014
Auberge du Soleil, Napa Valley's iconic small luxury hotel, has been honored with Forbes Travel Guide's highest rating – Five Stars – in the guide's 2014 star ratings, which were announced today. With the announcement, Auberge du Soleil became the only Five Star-rated hotel in Napa Valley. Auberge du Soleil will be showcased with all of the 2014 Forbes Star recipients on ForbesTravelGuide.com.
Forbes Travel Guide's Five Star rating recognizes hotels that provide a memorable experience through virtually flawless service and the finest of amenities. Hotel staff are intuitive, engaging and passionate, and eagerly go beyond expectations. Five Star-rated hotels are designed with guest comfort in mind, with particular attention paid to craftsmanship and quality of product.
"We are honored to receive Forbes Travel Guide's highest accolade," said George Goeggel, Managing Partner, Auberge du Soleil. "Thanks go to all of our valued staff, whose dedication enables us to expand on the Auberge's legacy of award-winning hospitality."
Auberge du Soleil has become synonymous with the quintessential Napa Valley experience for its guests and patrons. From the moment of a guest's arrival, the hotel exudes excellence, from its spacious and masterfully designed accommodations to its Michelin-starred restaurant under the direction of Executive Chef Robert Curry, to its extensive wine collection curated by Wine Director Kris Margerum, and its internationally acclaimed Auberge Spa. The Auberge guest experience is beautifully set against the spectacular views and backdrop of the Napa Valley, visible from nearly every angle of the property.
Forbes Travel Guide's luxury travel ratings have been the gold standard in the hospitality industry since 1958. "Our Star Ratings recognize the finest hotels, restaurants and spas in the world. These ratings serve as guideposts for consumers seeking exceptional travel experiences, and our primary mission is to serve the consumer," said Michael Cascone, President of Forbes Travel Guide.
About Forbes Travel Guide:
Forbes Travel Guide, formerly Mobil Travel Guide, is the originator of the prestigious Five Star Rating system, and has provided the travel industry's most comprehensive ratings and reviews of hotels, restaurants and spas since 1958. Forbes Travel Guide has a team of expert inspectors who anonymously evaluate properties against up to 800 rigorous and objective standards, providing consumers the insight to make better-informed travel and leisure decisions. Forbes Travel Guide is the gold standard for luxury hospitality ratings worldwide. For more information about Forbes Travel Guide, visit http://www.forbestravelguide.com.
About Auberge du Soleil
Auberge du Soleil is the flagship of Auberge Resorts, a collection of exceptional hotels, resorts and private clubs, each with a unique personality that assures a memorable guest experience. While Auberge Resorts nurtures the individuality of each establishment, all are characterized by a set of communal elements: intimate, understated elegance; captivating locations that inspire exceptional cuisine and spa experiences; and gracious yet unobtrusive service. Among the Auberge collection of distinctive properties are: Auberge du Soleil, Napa Valley, Calif.; Calistoga Ranch, Napa Valley, Calif.; Solage Calistoga, Napa Valley, Calif; Esperanza, Cabo San Lucas, Mexico; The Inn at Palmetto Bluff, Bluffton, S.C.; Hotel Jerome, Aspen, Colo.; the Malliouhana Hotel & Spa, Anguilla (opening 2014); The Auberge Residences at Element 52, Telluride, Colo.; and Pronghorn Resort, Bend, Ore., with several others currently in development. For more information about Auberge Resorts, please visit http://www.aubergeresorts.com/. Follow Auberge Resorts on Facebook at facebook.com/AubergeResorts and on Twitter at @AubergeResorts. - See more at: http://aubergeresorts.com/.