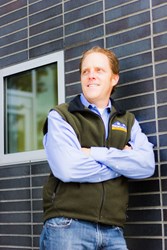 Before Obamacare, Sessler documented how he thought our country should approach the health problems.
Seattle, WA (PRWEB) January 31, 2014
Freggies, a fledgling organic foods delivery service located in Seattle, Washington, competes with upwards of 22 different competitors in the market. Some like Amazon Fresh offer a wide variety with a one-stop-shop mentality and others offer just what is grow on their farm or partnering farms. Freggies lies somewhere in between by creating a distribution network that allows them to access organic produce from around the globe throughout the year as growing seasons shift.
Jerrod Sessler will provide training for membership via the web on at least three occasions for live webinars, as well as interviews and Q&A's to benefit the Freggies membership. "The idea is to assist our members in building a better life through the use of a truly healthy diet and lifestyle," says Greg Madgsick, Freggies Operations Director. He goes on to say, "Jerrod is a leader in the sense that he was doing much of this stuff 15 years ago right after he was diagnosed with terminal cancer and given a slim chance of living into this 40's. He even devised a plan that rivals what the government is doing through Obamacare, which he shares freely at http://www.freggies.com/health_care_solution.pdf."
As it relates to health care, Sessler knows what he is talking about after living through a terminal cancer diagnosis nearly 15 years ago. He did not choose conventional medicine, but instead took a step back about 75 years into a more holistic era. This was happening in a time when pills and procedures did not rule the roost. A time when people knew what herbs, seeds and natural potions would strengthen the natural self-healing system built into each of us.
Jerrod Sessler is healed of stage 4 melanoma and he is proof that the medical modalities of the typical allopathic medicine may not be the best for us. He believes that taking our lifestyle back to the basics is the key to living a full, healthy and vibrant life. And, the truth is, he is proving it. Google him and take a look at his vibrant looking family.
Sessler has written three books on the topics of health and fitness. He opened a restaurant where people can get scrumptious food every day. That establishment is called Zoopa (visit http://www.EatZoopa.com).
Before Obamacare, Sessler documented how he thought our country should approach the health problems that we face. He and his family are living examples that it is possible to live well, eat healthy and enjoy life. Sessler believes that the answers are not all that far of a reach. He says, "We live the way we are taught to live, but if we look back just a few generations and live more like them we would be radically more healthy. In fact, it is actually easier now because we have all these machines in our kitchens to do stuff for us!"
To learn more about the basic tenants of 'Sesslercare', visit: http://www.freggies.com/health_care_solution.pdf and prepare to be amazed at how simple it could be for America to be not only the wealthiest, but also the healthiest, place on earth.
About Freggies
Freggies can be reached at http://www.Freggies.com
About Jerrod Sessler
Jerrod Sessler is a serial entrepreneur. He is a Seattleite, entrepreneur, franchise founder & executive, cancer survivor, engineer and past NASCAR Driver. Jerrod lives with his family in Seattle and works close by in his company headquarters. Sessler founded HomeTask, a multi-brand franchisor of six home services concepts and has approx. 200 locations primarily in America. HomeTask brands currently include Blue Crew (Pool Maintenance), Freggies (organic produce delivery), Lawn Army (lawn care service), Pet Butler (pet waste cleanup), Yellow Van Handyman (your pro handyman), and Data Doctors (computer services). Jerrod is also engaged in several other entrepreneurial adventures and some charity work.