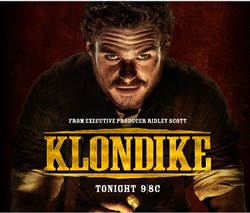 "Klondike" follows two famous adventurers, Bill Haskell and Byron Epstein. They travel North West together searching for gold.
(PRWEB) February 02, 2014
The Discovery Channel premiered its first-ever scripted TV mini-series, "Klondike," on Monday night. Discovery's material normally consists of documentary-style series and programs. "Klondike" will mark the channel's first attempt at a period narrative. "Klondike" narrates actual events surrounding the Klondike Gold Rush of the 1890s.
The story follows two famous adventurers, Bill Haskell and Byron Epstein. They travel North West together searching for gold. Richard Madden ("Game of Thrones") plays Haskell and Augustus Prew ("Kick-Ass 2") plays Epstein. The plot will mainly focus on the friendship between these two.
Recently, Richard Madden said in an interview that "Klondike" was the hardest acting job that he has had to date. The material entailed shooting in some remote areas with cruel terrain and unforgiving climate. Madden also did many of his own stunts, putting him in even more dangerous situations. The actor stated that the acting job on "Game of Thrones" felt like a challenge, until he experienced the perils of shooting "Klondike."The logistics of filming proved to be as harsh as the trek in the story.
Hopefully all of the hard work will pay off in the new series. If it goes well, who knows what will come from the Discover Channel next?
Since its debut in 2003, ExploreTalent has become the Internet's largest resource for actors, models, musicians, dancers, and production crew. Explore Talent's proprietary cast match technology is the most advanced entertainment-based technology of its kind. It matches a talent's attributes against tens of thousands of job postings every day. Explore Talent's unique technology sends casting email alerts and posts auditions and jobs directly on talents' profiles, saving members hours of time from tedious searching. Explore Talent has proven to be the best possible destination for talent to find modeling and acting auditions with well over 7.9 million members and over 60,000 auditions, castings, and production jobs listed - 40 times more postings and open casting calls than any other site.
The site's popularity is based on the fact that there are many ways for talents to network, make friends and connect with other industry players, participate in a wide variety of contests and earn prizes for being active on the site. The online community has been responsible for new collaborations and business ventures in entertainment because of opportunities for individuals to network and chat with each other. Furthermore, the Explore Talent site features celebrity videos, exclusive interviews with actors, actresses, and musicians, such as Akon and T-Pain.
Visit ExploreTalent.com's other Episodic TV acting jobs available.