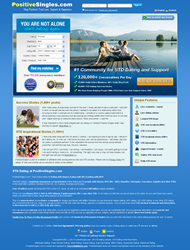 Los Angeles (PRWEB) January 24, 2014
As a niche dating site for people with STD/HIV, PositiveSingles.com offers helpful advice regarding the many different sexually transmitted diseases that affect its members. Today's advice is about herpes simplex virus, (HSV, or herpes) which affects many of the members, as well as many people worldwide.
According to PositiveSingles, people who suffer from HSV should not shave the breakout area. Shaving the area is a common mistake that people make because they think it's easier to soak the area in warm water and apply ointment when there's no hair. The truth is that shaving creates many tiny cuts, which are not visible to the naked eye. These small cuts allow germs to enter the skin and increases the possibility of a herpes breakout.
People with HSV should also remember to keep the area clean and dry. Most people know that a virus is active in a warm and humid environment. Keeping the area dry is a very effective way to speed up the healing process. "It is more comfortable to keep dry with a hair-dryer than with toweling," said an anonymous PositiveSingles member.
Wearing loose, breathable underwear and clothing is another important tip, according to many PositiveSingles members. Loose underwear decreases friction in the infected area. "I feel more comfortable in loose and breathable clothing," said one anonymous member who recently had an outbreak.
Peanuts and peanut butter are a common food in most American families, but according to PositiveSingles, this food should be avoided. Peanuts contain arginine, which is an ingredient that can worsen HSV. There is a mushroom called Rozites caperata, also called the "gypsy mushroom," that was recommended by 83.15% of the PositiveSingles members as a way to avoid an outbreak. The gypsy mushroom contains chemicals that fight both oral herpes virus (HSV-1) and the genital herpes virus (HSV-2), according to a report at WebMD. (http://www.webmd.com/genital-herpes/guide/herbs-supplements-gential-herpes)
The last piece of advice is to be calm as often as possible and find ways to release mental and physical stress, which can cause herpes outbreaks. PositiveSingles members suggest exercising regularly. Exercising can improve the immune system to fight against the herpes virus.
By following the advice given by the experts and members at PositiveSingles.com, people who suffer from herpes simplex virus can decrease the amount and frequency of breakouts. This allows them to enjoy a more active lifestyle and be happier.