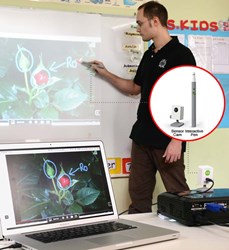 We're excited to see how the IS-01 Interactive Whiteboard System will help UK educators innovate in their classrooms.
Sunnyvale, CA (PRWEB) January 27, 2014
After a positive reception from educators in the United States, IPEVO's IS-01 Interactive Whiteboard System is set to make its debut in the United Kingdom. IS-01 is just one of ed tech company IPEVO's diverse range of teaching tools designed with educators in mind. The IS-01 is a portable two-piece system which turns any flat surface into an interactive whiteboard. The system is available to customers throughout the United Kingdom through Amazon UK at http://www.amazon.co.uk.
The IS-01 is made up of two small devices: the Sensor Cam and the Interactive Pen. The Interactive Pen gives off infrared signals when held and operated. These signals are then picked up by the Sensor Cam, which connects to either PC or Mac via standard USB. When the Sensor Cam is properly calibrated and positioned with included software and a handful of simple steps, the Sensor Cam translates the Interactive Pen's signals into both mouse button clicks and cursor movements. In this way, educators at the whiteboard can remotely control the operating system as well as most software, turning passive material into interactive material.
Thanks to a contact-sensitive pen tip as well as a button on the pen shaft, the Interactive Pen is capable of left, right, and double clicks in addition to mouse drags and cursor control. For larger screens, a free extension wand is included with the IS-01, which snaps onto the end of the Interactive Pen to increase its effective length. The Sensor Cam — which is only a few inches high — can be placed on a table or projector, or it can also be attached to a ceiling-mounted projector with an included sticker.
The IS-01's value is enhanced with IPEVO Annotator software, which is available at no extra charge. This software provides a selection of easy-to-use drawing tools with which the educator can annotate projected material. Freehand drawing, text boxes, and a range of basic shapes with customizable thicknesses and colors are just some of the features of IPEVO Annotate. Additionally, IS-01 can also be used with any one of IPEVO's popular document cameras. A live image from the document camera — be it text, math equations, artwork, or three-dimensional objects — can be annotated in real-time for the entire classroom to see.
"We're excited to see how the IS-01 Interactive Whiteboard System will help UK educators innovate in their classrooms," said Royce Hong, CEO and big head of design for IPEVO. "American educators have done remarkable things with the IS-01 as they continue to integrate affordable technology into their lessons. But as we've learned time and again with IPEVO teaching tools, new ways to innovate and to increase student engagement are constantly being discovered by our enterprising customers."
Customers throughout the United Kingdom can purchase IPEVO's IS-01 Interactive Whiteboard System from the company's Amazon UK storefront at http://www.amazon.co.uk.