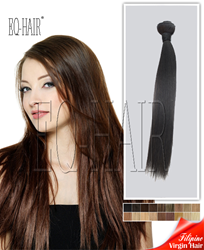 (PRWEB) January 25, 2014
With more than 100 employees in its factory in China, EQhair.net has been a leader in the industry of hair extensions. Recently, the business has released its silk straight Philippine virgin hair extensions which are expected to be a top seller for 2014.
Starting at $39, these silk straight Philippine virgin hair extensions are made with 100% Philippine virgin hair. They are designed by the designers of EQhair.net to satisfy the increasing demand of different people around the world. These new products are represented on the website of EQhair.net to earn the interest of viewers.
EQhair is a well-established hair fashion company, specialized in professional hair extensions. The company is devoted to providing various hair extensions for the ladies worldwide, and it is excited to début the Philippine virgin hair extensions.
The top designers of the company states, "We offer many products to our clients through our online store. Ladies can get a 20% discount when they follow EQhair.net on Twitter or like it on Facebook, Google+ or LinkedIn. More designs of virgin hair extensions are online at its website."
SNS is doomed to help EQhair.net expand its international effluence in 2014. The company welcomes any request and review from customers worldwide, and it is quite pleased with the feedback they've already received from the product debut.
About EQhair
EQhair is a leading hair extension wholesaler and retailer. With over 15 years of experience in the industry. It offers a wide range of virgin hair products, including Mongolian virgin hair, Indian virgin hair, Peruvian virgin hair wefts, Malaysian virgin hair, Brazilian virgin hair and more. Its products are available in 14 shades (from the lightest blondes to the darkest black). More details at http://www.eqhair.net/.