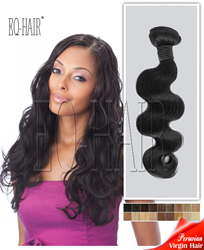 (PRWEB) January 26, 2014
The body wave Peruvian virgin hair wefts from EQhair.net are regarded by many customers to be of top quality. Recently, EQhair.net has announced a virgin hair promotion with great discounts. The promotion is valid until Feb. 15, 2014.
EQhair.net is a leader in virgin hair products; the company specializes in high-quality virgin hair wefts and related accessories for women. Besides high quality hair wefts, the company has become a leading brand in the industry through successful marketing strategies. They always keep launching new designs for their global clients.
"We promise to provide the best products for the global ladies, and our hair extensions are available in all colors, lengths, widths and patterns. The most popular patterns are dark barred, grizzly and badger. All our hair extensions are available with free delivery worldwide," the CEO of the company states.
EQhair.net was developed by some experts in the fashion industry after they saw a great demand for trendy hair wefts with strong customer service within the fashion industry. The company serves its clients by delivering exceptional value, and continues to move forward from a strong R&D base.
EQhair.net discovered that a great deal of fan behavior takes place within fan communities. As a result, the spokesman for EQhair.net emphasizes that ladies can get an extra discount of 20% off when they follow EQhair.net on Twitter or like it on Facebook, Google+ or LinkedIn. The company aims to expand its international effluence through SNS in 2014.
About EQhair
EQhair is a global community of ladies who share the ideas and hair products that make a woman look more attractive. With over 15 years of experience in the industry, EQhair has been a leading hair extension wholesaler and retailer, offering many trendy hair products at reasonable prices. More details at http://www.eqhair.net/