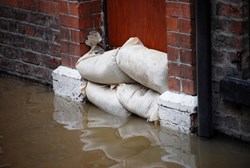 Companies need to develop innovative new ways to help potential victims of flooding and reduce the cost to insurers, public service bodies and the public.
(PRWEB UK) 22 January 2014
With flood warnings and transport disruptions still affecting much of Britain, reliable and innovative flood defence systems are growing in demand. RIFT R&D calls for any companies involved in projects combating this issue to contact them today, as they could be entitled to claim up to 25% of the relevant costs.
As reports of extreme weather conditions increase, the government has warned that more than 5 million homes are at risk of flooding. Put into perspective, that's 1 in 6 homes in the UK. In 2012, government figures revealed that flooding affected 8,000 properties, causing at least £400 million worth of damage.
According to The Guardian Online, Sir David King – appointed as the Permanent Representative of Climate Change in September 2013 – has advised that the UK will need to double current spending on flood defences to 1billion a year, by 2020.
The Environment Agency estimate the cost of protecting a property from flooding at £2,000 to £6,000 for shallow flash floods, while a mammoth £20,000 to £40,000 is the expected cost for prolonged flooding. These figures come from the Association of British Insurers (ABI).
What protection to properties is available to the average household? There are a variety of barriers, which fit water tight to properties' doors; a non-return valve, which ensures a one-directional flow of water to prevent waste water back-flow; easily applied water-proof sealant; and a flood alarm system designed to detect floods and overflows in homes and commercial properties, alerting the user immediately. It is surprising then, considering the statistics, that the market itself is hardly saturated with innovative flood protection products.
One of the leading suppliers and fitters is UK Flood Barriers, whose 'focus is on sustainable and passive flood defence systems, which require no people, no power, have zero operational cost and which reduce the impact of flooding worldwide and alleviate its financial and social cost.'
Such companies believe strongly in the investment in research and development, a sentiment shared by Rift Research and Development's Sue Nelson, "The horrendous impact of flooding throughout the UK has been apparent on our television screens for weeks. Companies need to develop innovative new ways to help potential victims of flooding and reduce the cost to insurers, public service bodies and the public. The investment in R&D is rewarded by government with the R&D tax credit scheme. Entrepreneurs seeking to develop innovative flood defences, as well as all sorts of other types of product development should check to see if they are eligible."
The tax incentive is available from HMRC either as a refund on corporation tax or as a straight cash payment. To be eligible for the SME scheme businesses should have less than 500 employees and a turnover of less than 100 euros. More information can be found at http://www.riftresearch.com.
About RIFT
Founded in 1999, The RIFT Group is one of the UK's leading tax refund specialists and has claimed back over £16 million in tax refunds for their clients this year. To find out more about the R&D tax relief scheme email info(at)riftresearch(dot)com or contact 01233 653002 for a free telephone consultation.