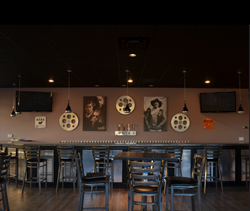 Ogden, UT (PRWEB) January 22, 2014
Restaurant furniture manufacturer and distributor, Affordable Seating, has helped Movie Grille to the triumphant opening of their new dine-in movie theater in downtown Ogden, UT. Ogden is one of the cities where the Sundance Film Festival is currently being held until January 26, 2014. Movie Grille is an innovative new concept that combines gourmet dining with a first class movie-going experience.
Patrons have the option of dining in Movie Grille's restaurant located near the entrance to the theater or they can enjoy their meal while watching a film. Customers can relax in their leather reclining seats while being served gourmet food and drinks. Movie Grille serves appetizers such as their signature Deep Fried Mac & Cheese Bites and entrees include burgers, sandwiches, paninis, salads and artisan pizzas. In addition to soft drinks customers can also order wine or beer.
The owner of Movie Grille purchased all of his seating needs from Affordable Seating because of its reputation for durable attractive furniture at low prices. "The owner was very happy with being able to save so much money. Also durable seating was important because this is a high traffic venue" Affordable Sales Rep. Dave remarked. Affordable Seating has established itself as a leader in the restaurant furniture business because of its many years of working closely with restaurants and its commitment to high quality. Many of its products are proudly made in the U.S.A.
The owner bought solid wood table tops with eased edge and chrome table bases. The solid wood table tops are made in the USA. For seating he ordered Affordable Seating's V-shaped dining booth upholstered in black vinyl, which is also made in the USA. Affordable Seating is well known for their premium quality booths which can be custom made in any size or shape and with any material.
He also bought Metal Ladder Back Chairs and matching bar stools. The Metal Ladder Back Chairs currently sell for only 31.50 with standard options and matching bar stools start at just $49.99. The commercial metal chair comes with a standard black sandblast frame finish, plastic glides and a padded seat. The frame is available in 5 different finishes. Customers have the choice of a solid wood seat of a padded seat made of fabric or vinyl. The wood seat is available in 6 different finishes and for an upholstered seat there are many options to choose from.
The owner chose a clear coat frame finish, which is also an option for an additional charge. Affordable Seating offers many options customers to choose from for all of its restaurant furniture. Clients can choose to customize their furniture with a custom made wood finish or special material for the padded seat, which is made from American materials.
The Metal Ladder Back Chairs and Bar Stools are the most popular choices for restaurants and bars. They are stylish and versatile enough for any type of establishment. They are also very tough and durable, which makes them a great choice and a wise investment. All of Affordable Seating's products come with a limited lifetime warranty.
To view Affordable Seating's full selection of restaurant chairs, bar stools, booths, tables and patio furniture visit http://www.affordableseating.net or call a customer service representative at (888) 495-8884.
Movie Grille is located at 2293 Grant Ave. in Ogden Utah. They can be reached at (801) 621-4738.