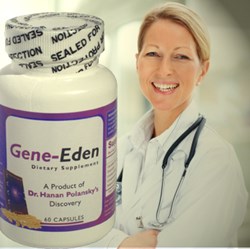 We recommend that people concerned about HCV infection ask their doctors about Gene-Eden-VIR. This natural antiviral was clinically proven to reduce symptoms of an HCV infection in a study that followed FDA guidelines. - Mike Evans, polyDNA
Rochester, NY (PRWEB) January 26, 2014
polyDNA has learned that nearly 1,000 people were warned that they may have been exposed to HIV, hepatitis or other infectious disease because the equipment at two separate dental clinics was not properly sterilized. Vicky Sheppeard, the NSW Health's director of communicable diseases, said that two separate clinics in Sydney, Australia "were inspected following a complaint by a patient about cleanliness (1)." polyDNA recommends Gene-Eden-VIR to those who wish to learn from this event and are concerned about acquiring a possible HCV infection during a visit to the dentist or other medical facilities. This natural product was clinically proven to reduce symptoms of HCV infections in a study that followed FDA guidelines.
"About 980 patients this month received letters from the south-eastern Sydney local health district advising them of a "low risk" of infection if they were treated at the clinics between August 2002 and August 2013. The letter to patients said the infection risks involved HIV and hepatitis B and C. Health authorities are recommending patients visit their general practitioner for precautionary screening for infection (1)."
Australian health authorities believed the risk of infection was "very low" but, polyDNA believes it was wise to warn patients of the risks of exposure to HCV. When someone is infected with HCV, they probably won't know it until it's almost too late. "Most persons with chronic HCV infection are asymptomatic (without obvious symptoms). However, many have chronic liver disease, which can range from mild to severe, including cirrhosis and liver cancer. Chronic liver disease in HCV-infected persons is usually insidious, progressing slowly without any signs or symptoms for several decades. In fact, HCV infection is often not recognized until asymptomatic persons are identified as HCV-positive when screened for blood donation…." (See the CDC Website on HCV, last updated on May 28, 2013) (2).
"We recommend that people concerned about HCV infection ask their doctors about Gene-Eden-VIR. This natural antiviral was clinically proven to reduce symptoms of an HCV infection in a study that followed FDA guidelines." - Mike Evans, polyDNA
Gene-Eden-VIR, a natural remedy, was designed to help the immune system target the latent virus. A study published on August 12, 2013 in the peer reviewed, medical journal Pharmacology & Pharmacy, in a special edition on Advances in Antiviral Drugs, showed that Gene-Eden-VIR reduced HCV symptoms (3).
Study authors wrote that, "Individuals infected with the hepatitis C virus…reported a safe decrease in their symptoms following treatment with Gene-Eden-VIR (4)." The study authors also wrote that, "We observed a statistically significant decrease in the severity, duration, and frequency of symptoms (3)."
To learn more about Gene-Eden-VIR, and HCV, visit http://gene-eden-kill-virus.com/HCV.php. All orders of Gene-Eden-VIR are completely confidential, and no information is shared or sold to any third party. Privacy is assured.
References:
(1) Sydney dental patients warned of possible exposure to HIV or hepatitis. Published on January 16, 2014.
http://www.theguardian.com/world/2014/jan/17/hiv-hepatitis-1000-dental-patients-warned
(2) CDC - Hepatitis C FAQs for Health Professionals. Published on May 28, 2013.
http://www.cdc.gov/hepatitis/hcv/hcvfaq.htm#b10
(3) Gene-Eden-VIR Is Antiviral: Results of a Post Marketing Clinical Study. Published August 12, 2013.
http://gene-eden-kill-virus.com/PP_Gene-Eden-VIR-is-Antiviral.pdf
polyDNA is a biotechnology company that develops dietary supplements using the unique scientific method developed by Dr. Hanan Polansky, which is based on Computer Intuition.
In addition to his unique scientific method, Dr. Polansky published the highly acclaimed scientific discovery, called Microcompetition with Foreign DNA. The discovery explains how foreign DNA fragments, and specifically, DNA of latent viruses, cause most major diseases.
polyDNA developed Gene-Eden-VIR, an antiviral natural remedy that helps the immune system kill latent viruses.