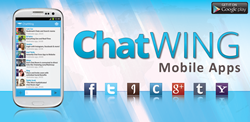 Dallas, TX (PRWEB) January 22, 2014
As one of the year's major steps in Facebook, Chatwing Company has created a new flexible chatbox for Facebook gamers. The purpose of the chatbox is to create a strong synergy among Facebook gamers and emphasize the importance of such games.
"Facebook games will stay in the cyberspace for many years," Shelly Miller said. Ms. Miller is a talented researcher who has been with Chatwing chat room app for more than five years now. "Every Facebook game has thousands of gamers and subscribers, so we are really reaching out to a large market. With our latest chat tool, gamers can discuss their experiences, sentiments, and opinions. Additionally, these gamers can create large social networks wherein communication is crucial."
Facebook login method is one of the popular website chat software features of the widget. Aside from that, users can also log in with Twitter, Google, Yahoo, Instagram, and Tumblr accounts. This wide range of social media options has attracted many users, particularly Facebook gamers.
Chatwing chatroom also has a powerful customization engine. After the short registration process, the user can start tinkering with his chatbox. He is entitled to make unlimited chatrooms with different designs. To save more time, Chatwing Team has added pre-designed themes—the user can just select one of these themes and apply them to the chatroom. Other functions include a word filter system, unlimited moderator setup, chat networks, and premium services.
Interested users can visit Chatwing's Facebook page for more widget information. Aside from widget tutorials and support, Chatwing chat software also offers useful online content and tips.
About Chatwing.com
Chatwing.com is a company that has brought innovation to the modern chat widget. Operating for more than five years now, Chatwing and its team of developers have dozens of ideas ready to be introduced to the public. The Chatwing chat app is an easy-to-use online tool that can help web users interact with each other and can also generate continuous traffic. Chatwing will always be a "freemium" application for everyone.