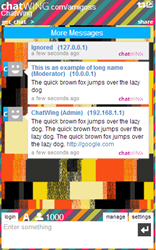 San Francisco, CA (PRWEB) January 24, 2014
Chatwing Team is now expanding its reach by offering blog design service to Xanga users. This service is considered a part of Chatwing's premium initiative, and the fees will be discussed privately to interested Xanga users. Here is the known scope of the services:

Design upon request. Chatwing's chat software developers will design the blog or website according to the request of the users. In this way, users will have more choices and control over the development of their blogs. All requests will be processed in Chatwing's Facebook page and blog.
Ready-made chatroom. After designing the blog, users have the option to integrate the Chatwing chatbox. With a chatbox embedded, the website will now have a greater edge. Traffic will pick up gradually, depending on the content posted in the website. Users also get to pick the designs and preferences of the chatbox.
Additional chatroom boosts. Another part of the premium services is chatroom enhancement. Xanga users who want faster and better chatrooms can submit requests to Chatwing developers. With enhanced chatrooms, Xanga users will have better chatting experience. The requests will be processed as fast as possible. Months ago, chat room software boosts were introduced to Wordpress users and the feedbacks were mostly positive.
Aside from more premium services, Chatwing chat app team is also planning to launch additional widget features in the coming months. These features will help users gain better leverage through online chat.
About Chatwing.com
Chatwing.com is a company that has brought innovation to the modern chat widget. Operating for more than five years now, Chatwing and its team of developers have dozens of ideas ready to be introduced to the public. The Chatwing chat app is an easy-to-use online tool that can help web users interact with each other and can also generate continuous traffic. Chatwing will always be a "freemium" application for everyone.