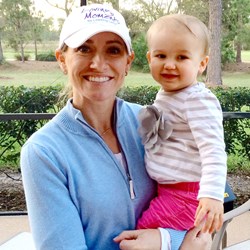 Loving Moments understands my commitment to my daughter and family as well as my career.
Bahamas (PRWEB) January 23, 2014
Pro golfer and Loving Moments by Leading Lady spokesmom Danah Bordner will take a swing at 2014 starting with the Pure Silk-Bahamas LPGA Classic competition. Held in the Bahamas, this second-year event is the perfect tropical stage for Bordner to start off this year's tour with a strong showing. "I'm honored to be a part of the Loving Moments by Leading Lady team again," Danah said about her role as brand ambassador for Leading Lady, a premier manufacturer of nursing bras.
Loving Moments by Leading Lady Brand Ambassador
When she's not on the golf course, Bordner is a mom to her little girl Taylor and a wife to her husband, Steve. Danah is a devoted nursing mom and makes breastfeeding her daughter a top priority, even when she's traveling. Loving Moments by Leading Lady, the exclusive maternity to nursing collection available only at Walmart and Walmart.com, became Bordner's official sponsor in 2013.
Danah shares why she's a perfect ambassador for the Loving Moments team: "Loving Moments understands my commitment to my daughter and family as well as my career." Bordner successfully balances her passion for golf with her family and is an admirable figure for all breastfeeding moms. Loving Moments is dedicated to providing all moms with affordable, stylish nursing bras and maternity clothes that make breastfeeding simple. Loving Moments' partnership with Danah is a hole-in-one for new and expecting moms everywhere!
Charitable Contributions
Danah and Leading Lady make bringing awareness to women's health issues a priority. Bordner's primary charity, the National Ovarian Cancer Coalition, is a cause close to her heart: in 2009, Danah's best friend Erika passed away from ovarian cancer at age 29. With Leading Lady's help, Bordner has raised money and awareness for ovarian cancer prevention.
About Leading Lady
Celebrating 75 years as a leader in the intimate apparel niche market, Leading Lady proudly offers the best bras for full figured women and nursing moms. With a concentration on innovative design features, Leading Lady provides high-quality lingerie that makes every curvy woman feel like a star. Leading Lady advocates breastfeeding and is committed to providing nursing moms with the most comfortable, supportive nursing bras in the market. Visit http://www.LeadingLady.com for additional information and company values and practices.
About Loving Moments
Loving Moments by Leading Lady offers new and expectant moms affordable and comfortable maternity clothes and nursing bras available only at Wal-Mart and Walmart.com. The Maternity to Nursing Wardrobe collection is a unique set of maternity clothes that carry mom through pregnancy to breastfeeding. Moms don't have to sacrifice style for high-cost nursing bras with the Loving Moments by Leading Lady maternity and nursing lines. Loving Moments celebrates a mom's expanding family and encourages the important bond between a mother and her baby. For more information and to view products, visit http://www.LovingMomentsBras.com.