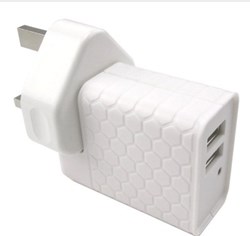 (PRWEB) January 26, 2014
The high end adapters from Hiconn Electronics are famous for durable materials and great performance. Recently, the company has released its new range of 2-Ports AC USB Power Adapters and launched a promotion. The fresh items are now offered at discounted rates, up to 60% off.
Hiconn Electronics is a leader in the manufacturing and retail top quality electronic devices. It has a lot of excellent products for sale. The new collection consists of OVER 5000 items. The company's top experts make every effort to ensure customer satisfaction.
Here are some detailed information about the company's 2-Ports AC USB Power Adapters:
•Model No.: UAC-3A
•Approvals: CE-FCC-RoHs2-REACH
•Packing Info.: 20PCs/CTN
•Payment Terms: L/C-T/T-Western Union-Paypal
•Minimum Order Quantity:100PCs
•Brief Description: 2-Ports AC USB Power Adapter with output 5V,3A,15W.
•Target Markets: Africa-Asia-Eastern Europe-Northern Europe-Latin America-North America-Oceania-Western & Southern Europe
•Input:110-220V 50Hz
•Output: 5V/3A/15W
•Color: White & Black
•Smart, compact, light weight, and convenient for traveling
•Simply plug it into an electrical outlet and charge using the USB cable (not included)
•Intelligent IC chip inside recognizes a fully charged battery and automatically switches to a saver mode to prevent overcharging and short circuit
•LED indicator
"We are excited to launch this special offer. We encourage worldwide distributors to keep an eye on our website; we announce new designs at times. Along with 2-Ports AC USB Power Adapters, we have thousands of top quality items online for sale. Those who want to buy affordable electronics products can visit our online store now," the CEO of the company says.
About Hiconn Electronics
Hiconn Electronics (Shenzhen Hiconn Electronics Co. Ltd.) is devoted to designing and manufacturing a wide range of connection cables and customized cable assemblies, offering many HDMI cables, VGA cables, SATA cables, USB cables, 1394 cables, DVI cables, SCSI (Small Computer System Interface) and more. For more information, please visit http://www.hiconn.net/.
Contact Person: James Yin (Sales Director)
Company Name: Shenzhen Hiconn Electronics Co., Ltd.
Address: Shenghua Building., Xixiang Road., Baoan District, Shenzhen, Guangdong Province, China
Zip Code: 518102
Tel: +86-755-8109 8345
Fax:+86-755-2779 3497