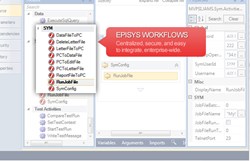 Farmington, CT (PRWEB) January 23, 2014
MVP Systems Software, Inc., a leading provider of enterprise job scheduling and workload automation software, announced that JAMS Job Scheduler 6.1 includes full support for Symitar Episys®. The latest version of its flagship workload automation solution helps credit unions establish reliable IT workflows and integrate those workflows with other scheduled IT tasks.
The visual workflow editor built in to JAMS provides credit union IT staff with "drag-and-drop" access to common core processes, such as:

Report Generation
Secure transmission of Episys files between servers
Goodnight procedures
ACH and EFT
Custom processes
"JAMS 6.1 is tightly integrated with Symitar Episys so that as soon as credit unions automate core processes they can begin linking them to other applications used to serve members efficiently," says David Kluskiewicz, VP of Marketing at MVP.
JAMS 6.1 presents each step of a credit union's automated IT workflows in a clear and concise graphic interface. Once defined in JAMS, Episys jobs and workflows can be further refined to run under specific conditions and generate detailed alerts when they produce an unexpected result. JAMS 6.1 also provides real-time monitoring and auditing for Episys jobs, ensuring compliance with a credit union's internal operating procedures and external regulatory requirements.
Visit MVP Systems Software this spring at SymEast 2014 in Pittsburgh – April 22 – 24.
For more information on the features in JAMS 6.1, including a free 30-day trial version, visit:
http://www.jamsscheduler.com/NewInJAMSv61.aspx.
For the latest information on Symitar Episys integration in JAMS, visit:
http://www.jamsscheduler.com/Symitar.aspx.